Date: 16 Sep 2020
---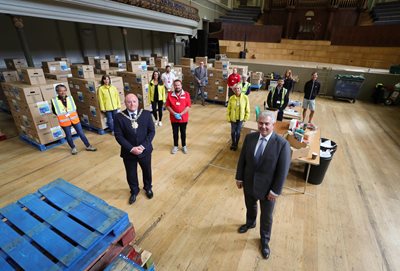 Members of Belfast City Council have praised the efforts of council staff and volunteers who provided a citywide community response to the ongoing Covid19 pandemic
A community hub was established in April to support the most vulnerable people across the city, helping to coordinate the delivery of food parcels and provide practical assistance including picking up prescriptions, and support and advice around benefits and jobs.
Working with a range of community and statutory partners, teams from across Belfast City Council mobilised and established the hub, and set up a city wide helpline whilst communities established localised community helplines, all of which collectively handled more than 14,000 calls.
Over a 16 week period the community hub was responsible for:
delivery of 107,407 food parcels and hot food, 50,522 as part of the Department for Communities led scheme and 56,784 through local community providers;
9,320 deliveries or prescription pick-ups on behalf of residents;
handling 9,770 calls from residents across the city.
The Council-run hub also distributed £1.6million of emergency support funding, supported by the Department for Communities, to over 130 community and voluntary groups, enabling them to provide urgent support within their local areas.
Chair of Belfast City Council's People and Communities Committee, Councillor Daniel Baker, who was Lord Mayor during the early days of the lockdown, commended the efforts of everyone involved.
Councillor Baker said: "The success of the Belfast Community Hub would not have been possible without the huge commitment by our own staff and volunteers across the city who gave their time and worked tirelessly, and focused their energies on helping others, especially those who are the most vulnerable in communities.
"This coming together by people and organisations across the city demonstrated a community spirit like no other, and one that I think, as a city, we can be very proud of. The work carried out by the community hub showed the very best of Belfast, and the statistics show just how challenging a task that was in its scale and reach."
The next phase of council's response to the pandemic will look at developing services at a local level, helping build community capacity, creating and retaining jobs and investing in the regeneration of communities.
For more information on the Belfast Community Hub please visit our website at https://www.belfastcity.gov.uk/covid19#communitysupport