This page is more than a year old and may not contain the most up-to-date information.
Date: 09 Nov 2021
Category: City regeneration and development
---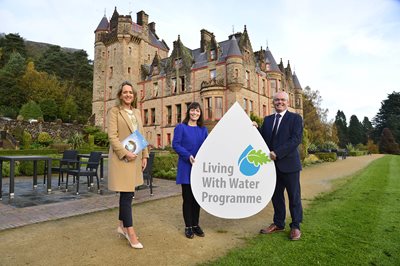 Belfast Lord Mayor Councillor Kate Nicholl joined Infrastructure Minister Nichola Mallon and NI Water's Paddy Brow to announce plans for a drainage and wastewater management plan for Belfast.
The plan - Living With Water in Belfast: An Integrated Plan for Drainage and Wastewater Management in Greater Belfast - aims to deliver a long-term approach to drainage and wastewater management that will protect from flooding, provide a cleaner and greener environment and ensure that Belfast is open for business and investment. This follows NI Executive approval and a public consultation.
The Lord Mayor said: "I very much welcome the publication of this plan which outlines a much-needed, long-term integrated approach to tackling drainage and wastewater management issues in the city. The climate emergency has rightly been high on the international news agenda in recent weeks and months, and the publication of the plan during COP26 is timely as this work will help to create a cleaner and greener environment here in the future.
"The scale of the investment needed also demonstrates just how critical this work is for the city's future prosperity. While it is extremely important that we protect residents and businesses from the threat of flooding, this investment in our infrastructure will also be crucial to enabling the city to grow sustainably in the future."
Minister Mallon said: "The provision of efficient and effective drainage and wastewater management systems in Belfast is critical for our health and wellbeing, the environment and to the economic prosperity of the City. We only have to look at the devastating impacts of flooding for those living and working in affected areas to know that we must act now. We are in the grip of a climate emergency and events like COP26 which I am attending tomorrow is shining a much-needed spotlight on this. If we fail to act and do nothing, things will only get worse. Pressure is mounting on our aging drainage and wastewater infrastructure following years of chronic underinvestment which when combined with the impacts of climate change is literally creating the perfect storm with potentially devastating consequences.
"We are experiencing the effects of this already with many of the sewerage networks and wastewater treatment works across Belfast at or nearing capacity, meaning that future connections for developments may not be accepted by NI Water. This could constrain economic growth and halt building the new homes our citizens so desperately need as well as causing likely increased pollution and damage to the environment and greater risk to the population's health and wellbeing.
"Infrastructure is the key that unlocks our opportunities for growth and this Plan clearly makes the case for investment that will provide a 21st century wastewater system to serve the growing population and allow for economic growth. At £1.4billion over 12 years it is not a quick, or inexpensive fix but this Plan sets out how we can achieve a thriving and resilient Belfast which is better protected and prepared for the future. The time for talking is over, now it is the time for action. In my Department we are acting and together with partners we are determined to make progress."
The plan was launched during a visit to works on a new natural flood management scheme and outdoor educational area for schools within Cave Hill Country Park in the grounds of Belfast Castle Estate. Part of the Living With Water Programme, this project has been taken forward by the Department for Infrastructure in partnership with Belfast City Council and demonstrates the new approach that can be achieved through the Living With Water Programme.
The Minister continued: "The demonstration project that I visited today in Cave Hill Country Park shows how we can use our open green spaces to naturally manage water to reduce flooding whilst also protecting our environment. Living With Water in Belfast proposes an integrated and collaborative approach to drainage and wastewater management which includes natural drainage solutions like this scheme alongside conventional hard infrastructure such as bigger pipes, larger treatment works and higher flood defences.
"I would like to take this opportunity to thank all of the partners in Northern Ireland Water, Belfast City Council, Northern Ireland Environment Agency and the Utility Regulator who have been working with my Department creatively and collaboratively so that we can find solutions that achieve multiple benefits at reduced cost and disruption.
"I also want to thank everyone who responded to the consultation. There was widespread support for the objectives and approach taken by the Plan.
"This problem and the solution is something that affects every one of us. This Plan published today is a result of working together and identifies new solutions for the benefit of all of our citizens. I am excited to see this Living with Water Programme Plan realised, initially for Belfast and then rolled out to other areas across the North."
NI Water's Head of the Living With Water Programme (LWWP) Paddy Brow added: "The publication of the Plan is a major milestone as it represents the culmination of five years of studies by the LWWP partners to assess the challenges faced and determine drainage and wastewater related investment needed for Greater Belfast. It also marks the start of the delivery phase. Today we have over 50 engineers working full time to deliver the construction works which will include upgrading six wastewater treatment works and their sea outfalls, replacing pumping stations, building new tunnels and upgrading pipelines and sewers across the area.
"We are working closely with partners to deliver sustainable solutions that provide adaptation to climate change and will also, where possible, provide a range of benefits to communities such as improved green spaces. We are grateful for all the support being provided to help implement the Plan over the next 12 years, which will require a huge team effort of all LWWP partners, our supply chains and the communities that we serve."
The final plan along with its associated environmental reports are available on the Department for Infrastructure's website (link opens in new window).