Date: 11 Oct 2022
---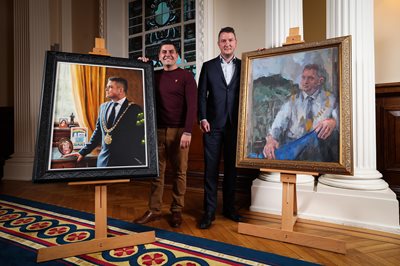 The official portraits of two former Lord Mayors of Belfast are now on display at City Hall.
The portraits of MP John Finucane and Daniel Baker MLA were unveiled at a special ceremony this evening. (Tuesday 11 October.)
The current Lord Mayor of Belfast Councillor Tina Black attended the unveiling at City Hall and said: "These portraits represent a significant time in history for John and Danny and encapsulate the immense pride both had in wearing the chain of office.
"Commissioning a portrait to mark a Lord Mayor's term in office is a long-standing tradition which further enhances the visitor experience at City Hall. They are also considered important historical artefacts and contribute greatly to the fabric of the building's rich history."
The portraits are on public display in Belfast City Hall and will be viewed by thousands of people each year during public tours of the building.
Councillor Black also remarked that the portraits were curated by local artists and warmly congratulated the artists involved for their "outstanding time, effort and skill."
Describing the portraits as "unique and an endorsement of the city's artistic talents", Councillor Black said that the work of artists Tony Bell and Leah Davis will now become part of the legacy and history of City Hall.
She added: "As a city we are incredibly proud of our phenomenal artists and the Lord Mayor's yearly portrait helps shine a spotlight on our artistic community.
"I hope that by providing local artists this opportunity and championing their skill, it will open more doors for them to showcase their talent."