This page is more than a year old and may not contain the most up-to-date information.
Date: 04 Jul 2022
Category: Belfast Stories
---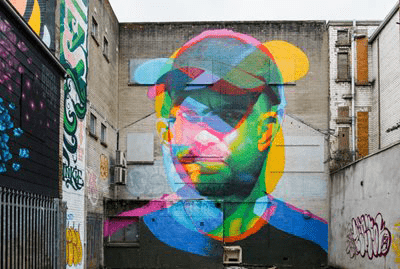 'Hit the North' street art festival returned to Belfast's Union Street and Kent Street for its tenth year in 2022.
Organised by SeedHead Arts and sponsored by Hennessy NI, Arts & Business NI, Belfast One, Linen Quarter BID and CQ Bid with support from Belfast City Council, Nobletts of North Street, Graff City & Street Culture for Regions, Hit the North festival gets bigger every year.
HTN22 ended on Sunday 1 May with an international street party and we were delighted that this included an area of the site that will become home to Belfast Stories.
Over the last decade, HTN has transformed Belfast city centre and Cathedral Quarter's visual landscape, with over 400 murals painted to date. Festival favourites joined local artists in welcoming some phenomenal international talent to Belfast for the first time.
HTN22 featured 50 local and international artists, with an array of styles and techniques on show. Festival goers enjoyed artworks being created throughout the day, alongside a series of larger murals which developed over the week.
We're looking forward to continuing to work with HTN and to ensuring that street art continues to be an important part of Belfast's character as our development plans progress.
If you want to find out more about the festival, or keep up to date with other SeedHead Arts events, visit www.seedheadarts.com (link opens in new window) and follow them on Instagram @seedheadarts.
We'd love to see your snaps of HTN murals on the site, so please tag #BelfastStories when you're sharing on social media.
---
DIVIDED by ACHES
Aches is a Dublin-based Irish artist, specialising in large scale murals and graffiti. Aches has been invited to design and create original artwork for projects around the world and after a decade of painting outdoors, Aches' artistic practice is now shared in equal balance between contemporary murals and studio work.
---
LET ME UNSEE by ASBESTOS
Asbestos is an Irish artist who's been creating work on the street in a variety of media since 2003.
"This mask represents a feeling of being overwhelmed with everything I'm consuming, seeing, absorbing, experiencing, living and decoding at the moment. It's all consuming, screen after screen, scroll after scroll, ad after ad. Everything is new, bigger, brighter, better, faster, smoother. It's impossible to not be enraptured by it all, but it's bloody exhausting. I feel I need to unsee, to switch off a few of my eyes, and to try to process fewer things."
---
BUST
BustArt is a neo-pop artist who tears characters and icons from their contexts and provides a broader sense through new compositions.
---
INKIE
Inkie is a London-based painter and street artist, originally from Clifton, Bristol, and is cited as being part of Bristol's graffiti heritage alongside Banksy, 3D and Nick Walker.
---
IOTA
Born in Brussels in 1991, Iota began to take an interest in drawing from an early age. In 2013 she became interested in mural painting and spent her free time looking for abandoned places to practice this new technique. Her current work finds its influences in classical painting, new and abstract art. By mixing the abstract and the figurative, she invites us to explore our emotions through the unconscious, as if we were diving into one of her dreams.
---
LOVE, LOSS N BEYOND by KENZ
"Everyone has a story to tell, a story of love, loss and beyond... but what is the whole content actually about here? Countless songs, movies and stories show us every day what something should be and should look like. Behaviours, assessments, expectations, reactions, disappointments, intrigues, dramas, love, misunderstandings, emotions, losses, but not all that bad, because the narrative usually is ending with the famous happy end. All good and forgotten and a bag full of happiness at your front door?! A utopia from Hollywood à la Walt Disney that has been indoctrinated for generations?! Just to keep up the positive thought and belief? Déjà vu, brainwash or reality?! Are we looking for love or is love looking for us, do we miss everything in the period we are looking for things? It also seems that Homo sapiens always strives for what they don't have at the moment. Or is this already consumer behaviour? Are we consuming our own lives, including the emotions we experience, without knowing what is really real?! We learn from history that we learn nothing. So are we accordingly caught in an endless loop of feelings and repeating loves, losses and whatever, beyond that may be? No matter how often and in how many variations these stories are told, the most fundamental of all questions is, do we learn something from them before it's too late??? Love more, love hurts, but so does loss, beyond that it might be too late already..."
Carl KENZ reverses parts of the current culture and status quo to critically reflect the planet Earth. His invented "Bohemian Surrealism" in paintings and sculptures often imply social criticism, which gives us a lot of food for thought.
---
KMG
KMG is a Scottish-based artist, illustrator, printer and painter.
Her curious nature leads her work to explore themes ranging from the precarious to the mundane, often of a subversive nature. A weird combination of youthful enthusiasm mixed with utter cynicism leaves her work with a sarcastic, raw, yet playful tone.
With a strong belief in the power of art, KMG also regularly works with community groups, healthcare and educational institutions to help make art as accessible as possible.