This page is more than a year old and may not contain the most up-to-date information.
Date: 07 Oct 2020
---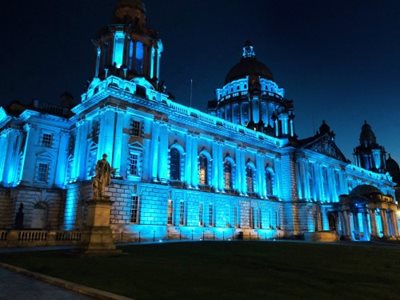 Belfast's Lord Mayor is encouraging people to think about how they travel ahead of City Hall lighting up tomorrow (Thursday 8 October) to mark Clean Air Day.
Clean Air Day is the UK's largest air pollution campaign, led by Global Action Plan. Traditionally taking place in June, the campaign has been adapted in light of the current pandemic and will be rolled out in October this year instead.
Lord Mayor, Alderman Frank McCoubrey said: "Over the last few months, and particularly during lockdown, people used their cars much less frequently and we saw an increase in the number of people walking or cycling which brought with it improvements in air quality; and there are important lessons to be learned from that shared experience and how we can make lasting changes to people's travel habits and foster a healthier, better connected city.
"We want to build on the ground that we have gained in the last number of months, albeit not in the manner we had hoped for or anticipated. Another major goal is to transition Belfast to an inclusive, low carbon, climate-resilient economy within a generation and improving air quality is a key part of this work."
Alderman McCoubrey added: "Walking or cycling is a healthier way to travel and I would encourage people to do this whenever possible. We all know the physical benefits but it's also good for your mental wellbeing. What's more, active transport modes are emission-free, so there's the added benefit of helping the environment."
Earlier this month, Members opted to change the Lord Mayor's official vehicle to a more eco-friendly fully electric model. The decision comes after Council invested in a fleet of 12 electric vehicles to use in its parks.
It is estimated that air pollution causes between 28,000 and 36,000 deaths in the UK every year. The World Health Organisation and the UK Government recognise that air pollution is the largest environmental health risk we face today. Poor air quality causes heart and lung diseases, is linked to low birth weight and children's lung development and may even contribute to mental health issues.
As part of its local air quality management functions, Belfast City Council has also started work on an ambitious new Air Quality Action Plan for the city in partnership with the Department of Agriculture, Environment and Rural Affairs, sustainable transport groups like Sustrans, public health organisations and environmental groups. One of the main objectives of this plan will be to address the few remaining air quality hotspots for nitrogen dioxide.
To find out more about Council's Air Quality Action Plan visit www.belfastcity.gov.uk/airquality
Look out for Clean Air Day Live, with scheduled online events from 10am. You can view the full line-up at www.cleanairday.org.uk/clean-air-day-live (link opens in new window)