Date: 15 Sep 2020
---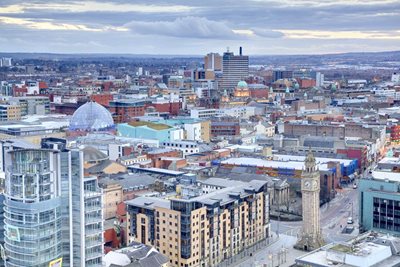 Belfast City Council has teamed up with Voluntary Arts Ireland to five virtual conversations to explore ways of bringing public spaces to life and create a more vibrant city.
As Belfast City Council begins to implement its cultural strategy, A City Imagining, we want people in Belfast to take part in conversations to imagine together, what we want for our city.

Lord Mayor of Belfast Alderman Frank McCoubrey said: "Culture is vital to our recovery as a city, and important to our city's future resilience. We want to create a vibrant city centre which is a catalyst for growth and regeneration.

"It's important that we hear from the people of our city and look at ways of injecting energy and colour into our public spaces, so we want to hear from artists, creatives and indeed anyone who is interested in the regeneration of our city spaces.

"The webinars are a chance to explore the potential for more collective action for the benefit of the city, especially as we progress towards a major year of cultural celebration in 2023.

"Our new 10-year Cultural Strategy A City Imagining encourages us to bring our streets to life and engage with our public spaces in new and creative ways.

"The sessions include a great line-up of speakers, all of whom are experts in their field and we'd encourage anyone with an interest in how our city is changing to get involved in these online conversations."

The 'A City Imagining: Making Places Together' will take place every Wednesday 10am starting on 23 September. The series will culminate in a final reflective discussion on 21 October."

The five webinars discussions will be:
Playful City (How can we make our city more playful, fun and engaging?)
Repurposing City Spaces (How vacant and underused city spaces could accommodate creative and cultural activity)
City as a Gallery (How can we can bring our familiar spaces to life in a creative way?)
Changing Neighbourhoods, Changing Cities (How can we encourage active citizenship and creativity in our neighbourhoods?)
Reflections and Next Steps (A chance to revisit what we have learned and discovered during the series and looking ahead)

Alderman McCoubrey added: "Covid19 has had a huge impact on our city centre, so now is a good time to rethink and explore new opportunities and creative approaches on how we interact with our city and use its spaces."

Kevin Murphy, Creative Associate at Voluntary Arts Ireland said: "The Making Places Together conversations aim to bring people together to imagine a more culturally vibrant city.

"There will be input from internationally acclaimed speakers including Anita Durst, Artistic Director of New York's ChaShaMa, which transforms unused real estate into space to create and present. Also joining the debate will be Rhiannon Corcoran, a Professor of Psychology and Public Mental Health at the University of Liverpool, who has recently been exploring the psychological and social impacts of Covid-19.

"Everyone is welcome to sign up and have their say and the broader the range of participants, the better."

For more information or to sign up to the webinars, go to Culture projects.