This page is more than a year old and may not contain the most up-to-date information.
Date: 15 Apr 2021
---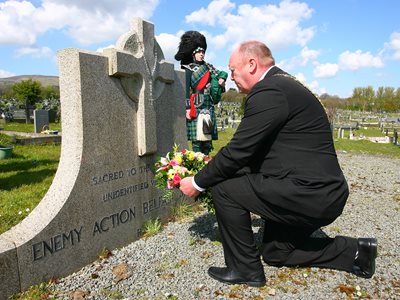 The Lord Mayor of Belfast Alderman Frank McCoubrey and trustees of the Northern Ireland War Memorial today placed wreaths on two mass graves in Belfast's City Cemetery and Milltown Cemetery to remember those who lost their lives in the Blitz.
This commemoration took place on the 80th anniversary of the Easter Tuesday air raid, one of four air raids on Belfast in April and May 1941, and the most devastating in terms of casualties.
A piper from Campbell College, Matthew Wilson, performed Abide with Me at the graveside commemoration., followed by two minutes of silence.
Speaking at the commemoration, Lord Mayor Alderman Frank McCoubrey reflected on the lives lost, and the lives forever changed by the devastating raids.
Alderman McCoubrey said: "Today we remember almost 1,000 people, mainly civilians, who lost their lives in the Belfast Blitz.
"There were four devastating Luftwaffe raids on Belfast in April and May 1941. The major raids, now known as the Easter Tuesday and fire raids are remembered most vividly. In some cases, entire families lost their lives, while others were left homeless and mourning the loss of loved ones, their lives changed forever.
"It's important that we continue to mark the anniversary of the Blitz, to take time to pause and reflect on this major event in our city's history, and the tragedy suffered by so many of our citizens."