This page is more than a year old and may not contain the most up-to-date information.
Date: 13 Nov 2020
---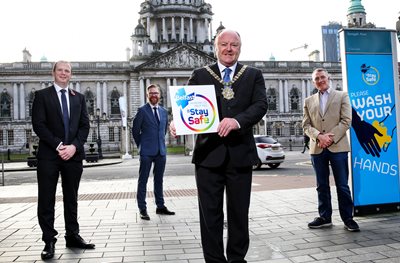 Belfast Lord Mayor Alderman Frank McCoubrey has urged people to buy local and support city businesses while continuing to shop safely, as Belfast prepares to light up for the Christmas season.
That call to support local retailers whilst shopping safely is being supported by Junior Ministers Declan Kearney and Gordon Lyons.
Alderman McCoubrey said: "As we look ahead to the festive season, our energy is focussed on reminding people to stay safe while doing all that we can to support businesses in challenging times.
"Our retail heart remains open, and businesses have worked hard to put measures in place to help keep staff and customers safe, so that people can have an enjoyable shopping experience.
"This weekend, the city will officially light up for Christmas and over the coming days, shop windows will be transformed with festive displays to make shoppers' experience extra special, and to show that Belfast believes in Christmas.
"I would encourage people to consider shopping local to support local jobs and livelihoods – but please remember to do it safely. When you are out and about in the city, it's important that everyone follows the public health advice: wash or sanitise hands often, wear a face covering and practise social distancing. We all have an important role to play in helping to stop the spread of Covid19."
Council has installed signage across the city centre, reminding people of the public health messages, and many shops and businesses are displaying a 'confidence mark' to reassure customers that measures are in place to help keep people safe. Hand sanitising stations have also been installed at various points throughout the city centre.
Junior Minister Lyons said: "Christmas is a hugely important time of year for so many people, including for our business owners and retailers.
"The ongoing public health emergency means this Christmas is going to be very different to normal, but it is important that we all do everything we can to live with the virus.
"The retail sector has taken its responsibilities very seriously in taking steps to keep staff and customers safe during this pandemic. They have invested heavily in safety measures in their stores and worked in partnership with the Executive and local councils to promote safe shopping.
"I would encourage everyone in Northern Ireland to support local retailers in the run-up to the festive season, but to do so safely by taking personal responsibility and playing their part in the collective effort to stop the spread of Covid-19."
Junior Minister Kearney said: "This has been a difficult year for everyone, not least those who have been striving to run a business, as they continue to provide services and keep people in jobs during the Covid-19 emergency.
"The many challenges thrown up by this deadly virus have impacted retailers in towns and cities across the north. But they have risen to those challenges by implementing measures to ensure they can keep their doors open and continue serving their local people while mitigating the risk to staff and customers.
"I would urge everyone to support your retailers this Christmas, but to do so safely by sticking to the public health advice when out shopping. We all must continue to do everything we can to keep ourselves, and each other, safe so that we can all enjoy the festive season."
Belfast Chamber Chief Executive Simon Hamilton added: "Belfast is renowned for its unique retail offer with a mix of small independent retailers and big brand names that you won't find anywhere else. Our retailers have invested in making their stores safe so that you can visit our city and enjoy a great experience and, in so doing, not only support our great businesses but also the people who work in them."
To find out more about shopping safely and the Belfast confidence mark, visit Belfast Confidence Mark.