Date: 28 Sep 2020
Category: Seniors
---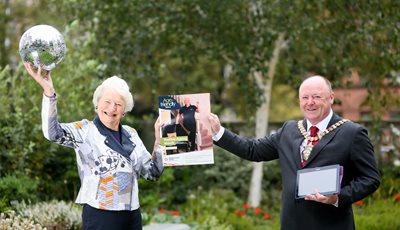 Positive Ageing Month is going virtual this year starting with the first ever online Age-friendly Belfast Convention on Thursday 1 October.
The Covid-19 pandemic has forced organisers to think outside the box to provide a unique programme of events that will primarily take place via webinars and zoom sessions.
Lord Mayor of Belfast, Alderman Frank McCoubrey joined Lady Mary Peters in the grounds of Belfast City Hall to launch this year's programme and he is delighted to see Positive Ageing Month taking place.
Alderman McCoubrey said: "There has been so much uncertainty throughout this year but it's fantastic to launch such a unique programme of events for our older citizens despite the challenges we face with the ongoing Covid-19 pandemic.
"Older people across the city have endured some very difficult and testing times. For their own health and safety many have been shielding in response to the virus which has led to them having to deal with other negative issues such as social isolation and loneliness. Positive Ageing Month offers a great opportunity for them to reconnect with people and give them a sense of normality.
"This year's virtual programme of events has something for everyone to enjoy including dancing, bingo, shared reading groups to quiz nights. I want to congratulate the event organisers for their efforts in pulling together such a diverse and exciting programme and I'd encourage all of our older people to get involved."
Lady Mary Peters, the golden girl of the 1972 Munich Olympic Games, has recently partnered with AgeNI to encourage older citizens to "Move with Mary". She has devised a series of exercises aimed at helping people keep fit and healthy within the comfort of their own home.
Lady Mary said: "It's so important that older citizens are not forgotten and I'm delighted to see such a wide and varied range of events taking place this Positive Ageing Month for them to enjoy.
"Covid-19 has cast a dark cloud over our lives, but with programmes such as Positive Ageing Month it's an opportunity to come together online and have a bit of fun."
The Age-friendly Convention, which coincides with International Day of Older Persons (celebrated on 1 October each year), traditionally kick starts the programme of events offering those aged 60 and over with the opportunity to find out more about what they can expect across the month of October.
All throughout October, Positive Ageing Month celebrates the contribution Belfast's older citizens make to the city and their local communities.
Some Positive Ageing Month favourites like the Slipped Disco, the Big Quiz and Tea Dance will all be done virtually for older people to enjoy from the comfort of their own homes.
There will also be cookery demonstrations, shared reading, history talks, info sessions, a games afternoon and the ever popular Chocolate Bingo. Some events will still take place at live venues such as the Silver Sunday at the Ulster Museum, movies at the Strand Cinema and guided walks. These events will follow strict social distancing guidelines.
Copies of the programme are available at www.makinglifebettertogether.com (link opens in new window)