Date: 21 Jul 2022
---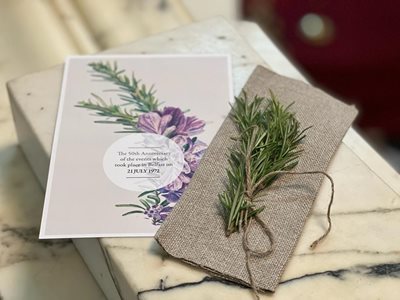 An event to remember those who lost their lives and those affected by the events of 21 July, 1972 – sometimes referred to as 'Bloody Friday' – was held at Belfast City Hall today.
Survivors and family members of those killed or injured on that day were invited to the reflective event to mark the 50th anniversary.
The event followed a notice of motion, passed by Belfast City Council in March, to organise an appropriate commemoration to mark the 50th anniversary year.
The names of the nine people who died on 21 July 1972 were read out before a short period of silent reflection: Stephen Cooper, William Crothers, John Gibson, William Irvine, Thomas Killops, Brigid Murray, Margaret O'Hare, Stephen Parker and Philip Price.
The programme included music from Lennon and McCartney (In My Life) and Evelyn Glennie (A Little Prayer), and there were readings of Leontia Flynn's poem The Peace Lily (for Michael Longley), as well as excerpts from CS Lewis' A Grief Observed and Robert McLiam Wilson's novel Eureka Street.
Double bassist Jonathan Hayward, a member of the City of Belfast Youth Orchestra and a recipient of the Stephen Parker Memorial Award - which was set up in memory of Stephen - performed a solo. Stephen had also been a member of the orchestra.
Ian Jeffers, Commissioner for Victims and Survivors, gave a short reflection. Speaking at the event, Mr Jeffers referenced the Good Friday Agreement's right for victims to remember as well as to contribute to a changed society.
He said: "It was a privilege to have been asked to take part in today's event and meet some of the families affected by the events of July 1972.
"The past is such a huge part of our society's identity, but not the end of our journey, and we still have much to explore when it comes to creating the means to ethically and sensitively reflect upon our experiences and continue to support victims and survivors."
Guests at today's event were given a sprig of rosemary, which signifies remembrance, placed on a piece of linen to represent the city of Belfast.
A copy of the programme is being submitted to the Linen Hall Library for inclusion in its archive.