This page is more than a year old and may not contain the most up-to-date information.
Date: 13 Oct 2020
Category: Parks
---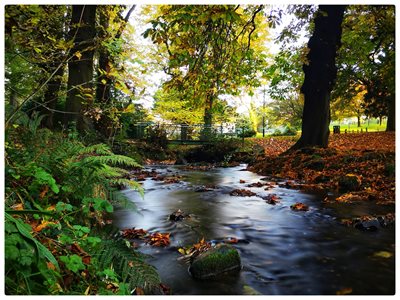 Twenty parks across Belfast have maintained their Green Flag Status for 2020.
Keep Northern Ireland Beautiful, the environmental charity that runs the scheme, announced recipients earlier this week with Belfast leading the way for internationally recognised parks and open spaces.
This year, people have taken to our parks and open spaces to enjoy the opportunity to get out and enjoy the great outdoors in the backdrop of the ongoing COVID-19 pandemic. Parks provided an essential service during lockdown, offering up a safe space to exercise and connect with nature.
Lord Mayor of Belfast, Alderman Frank McCoubrey, said; "It's an absolutely fantastic achievement for Belfast to maintain its 20 Green Flag awards. This is in no small part to the dedicated and hardworking staff who manage and maintain our parks and open spaces so visitors can enjoy these beautiful oases across the city. Due to the ongoing Covid-19 pandemic, we've seen a huge increase in footfall which brings additional challenges to our staff to maintain our parks and open spaces to such a high standard. I want to congratulate all of our staff for their continued endeavours and thank them for their tireless efforts throughout the year.

"The impact of having access to quality recreational space on physical and mental health and wellbeing cannot be underestimated. Our parks continue to be a major lifeline for people to enjoy."

Dr Ian Humphreys, Chief Executive of Keep Northern Ireland Beautiful, said: "Northern Ireland's parks and open spaces play a hugely important role in supporting our local communities, both in terms of providing recreational space but also for supporting health and wellbeing. This has been highlighted now more than ever as our parks and open spaces provided a haven to many during the difficult lockdown period. It is fantastic to see such a high number of sites in Northern Ireland meeting the international standard for excellence."

Parks and open spaces wishing to achieve Green Flag status must have a site management plan in place and be able to demonstrate they comply with a range of strict criteria including horticultural standards, cleanliness, environmental management, biodiversity, community involvement and safety standards. The awards are judged annually by a panel of experts, who volunteer their time to assess the management plans and the applicant sites through a rigorous judging process.
For the 2020/2021 season, Keep Northern Ireland Beautiful saw a continued increase in public parks, gardens, country parks, cemeteries and green spaces meeting the demanding standards.

For more information on the awards, visit Keep Northern Ireland Beautiful (link opens in a new window).