Date: 25 Nov 2020
---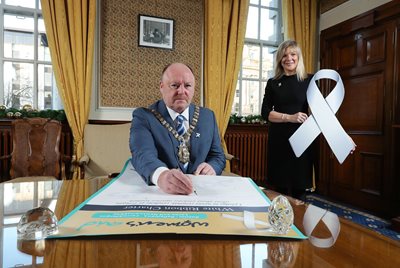 Lord Mayor Alderman Frank McCoubrey and Chief Executive of Belfast City Council, Suzanne Wylie, have signed the White Ribbon Charter pledge.
The White Ribbon Charter campaign is a global movement to end male violence against women. Today marks the start of 16 Days of Action, running between the International Day for the Elimination of Violence Against Women (25 November) until Human Rights Day (10 December).
Women's Aid has asked people in leadership roles to stand with them and make a pledge never to condone or remain silent about violence against women.
Signing and displaying the White Ribbon Charter demonstrates Council's commitment to support this important message.
The signing of the pledge follows Council agreement, earlier this year, to work towards a 'Safe City' accreditation – becoming a city that has zero tolerance towards domestic violence or abuse. A Safe City recognises that domestic abuse impacts upon many residents, regardless of age, religion, ethnic or cultural background.