Date: Thursday 16 December 2021 until Monday 31 January 2022
Venue: 2 Royal Avenue
Category: 2 Royal Avenue, Arts and culture
---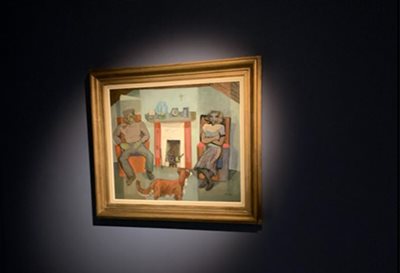 Belfast City Council, Ulster University, National Museums NI and have joined forces to deliver 'Art Unwrapped'.
The project takes an iconic piece of work from the Ulster Museum's collection, and gives it pride of place in the heart of the city as a gift to its citizens.
This year, Art Unwrapped will present 'Innishlacken Couple' by one of Belfast's most revered artists, Gerard Dillon (1916 – 1971). The much-loved piece from the national collection is arguably one of his most famous paintings and will be displayed in the purpose-built gallery at 2 Royal Avenue from 16 December until 31 January 2022.
Ulster University Belfast School of Art students will be providing guided tours introducing the work to members of the public and exploring the painting and its themes. There will be several different student-led virtual tours allowing viewers to experience different explorations of this magnificent art piece.
School workshops will also be available online. Ulster University art students will also be facilitating online tours and a range of narrated, interactive workshops specifically designed for pupils and teachers.
To book your place, visit www.ulster.ac.uk/artunwrapped