Date: 5 August - 15 August 2021
Venue: Various locations and online
Category: Festival, Online
---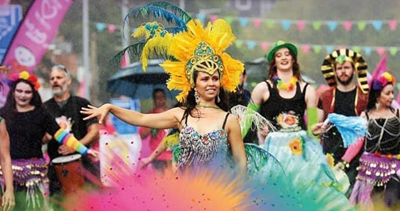 Ireland's largest community arts festival, Féile an Phobail, is set to return this summer from 5 - 15 August. The festival showcases the very best of the West Belfast Community, its creative talent, its people and its places.
This 10 day international festival takes place in the heart of the Gaeltacht Quarter, on Belfast's famous Falls Road and various other locations throughout the City, providing locals and visitors with an opportunity to tap into the rhythms which define this vibrant, creative and unique part of the City, a place that delights in sounds: the spoken word, the beat of rhyme, the rhythm of song, the crackle of the opened book, where one minute you can be in the hustle and bustle of City life, and the next lost in the hills and countryside overlooking Belfast.
The festival invites visitors to enjoy an eclectic mix of arts and cultural events, including headline music concerts, international sporting events, Irish traditional music, talks and debates, tours and walks, comedy, theatre, visual arts, family and young people events and much more! So to experience Belfast at its best, be sure to visit Féile an Phobail!
Look out for more information on the website at www.feilebelfast.com (link opens in new window)