Date: Various Fridays and Saturdays from 11 August 2023 until 10 November 2023 (see description), 3pm to 5.30pm
Venue: Tour starts at Grand Opera House
Category: Music
---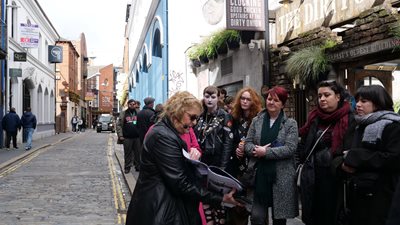 Come explore the story of punk music in Belfast, a city where punk meant more!
Tour dates
Saturday 30 September, 3pm to 5.30pm
Saturday 14 October, 3pm to 5.30pm
Friday 10 November, 3pm to 5.30pm
Hear about the role of the Good Vibrations record shop and label set up in the late 1970s - and also discover our great contemporary punk bands.
From the late 1970s, Belfast punk has held a special place in music history, near and far. The story of 1970s punk and the Good Vibrations record shop and label run by Terri Hooley, has been dramatised in the 'Good Vibrations' film. Take this walking tour to explore the story of punk music on Belfast's streets, with a passionate punk music loving guide, who saw live back in the late 1970s the city's great bands, including The Outcasts, Rudi, Stiff Little Fingers, Ruefrex, Victim, etc – and who also loves today's punk bands too.
On this leisurely dander you'll see legendary sites in the 1970s punk story, including where the Good Vibrations record shop first opened, and where the Harp Bar and The Pound stood. You will also visit the city's music hub, the Oh Yeah Music Centre, for a look around the fascinating punk memorabilia and artefacts in the display cabinets of its NI Music exhibition. You'll hear about punk collectives in Belfast from the 1980s to now, including Warzone and Giro's. Your guide will paint a picture of a night out in Hill Street back in 1979, sharing her own stories of punk gigs back then - as well as introducing you to a few of the excellent punk bands performing today.
A soundtrack of punk music will be played at each stop, including '70s tracks by Rudi, The Outcasts, Stiff Little Fingers, The Undertones and more, as well as tracks by contemporary punk-linked bands such as Wood Burning Savages, Problem Patterns, Tramp and Cherym.
This fun tour offers a great opportunity to see many of the places in Belfast where the action took place, with music and stories of punk bands then and now along the way.
Book your place (link opens in new window)