Date: Sunday 18 June, 10am to 12 noon
Venue: Cathedral Gardens Active Travel Hub, outside Ulster University campus
Category: Active Travel
---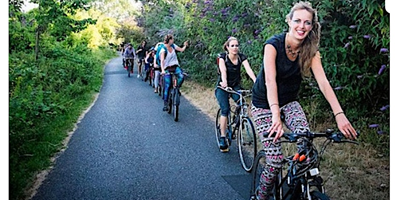 Join Sustrans for a women-led social cycle from our Cathedral Gardens Active Travel Hub to Victoria Park.
This is a chance for all members of the public to come together and take part in a community focused led ride. All rides will be led by experienced and qualified Ride Leaders.
We will leave the hub at 10am and discover a different cycling route every month. We are aiming to be on our bikes for 2 hours, with plenty of time to stop, rest, have a hot drink and socialise.
The rides are ideal for leisure cyclists who like to enjoy their surroundings at a relaxed pace!
No bike? No problem, you can borrow a bike from our hub and return it at the end of the ride. Just make sure you let us know via email before the event.
You can also bring your own (we'll check it for you).
Come on down to the Cathedral Gardens Active Travel Hub for a fun cycle.
For any questions about the event or to book a bike for the led ride, please contact Natalie at natalie.smyth@sustrans.org.uk
Book your place (LInk opens in new window)