Date: 7.30pm to 8.30pm on Monday 23 January 2023
Venue: Clonard Monastery, Clonard Gardens, Belfast, BT13 2RL
Category: City Cemetery
---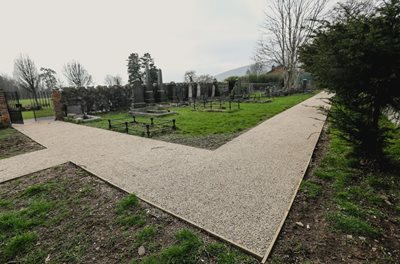 Steven Jaffe, director of the Belfast Jewish Heritage project, will deliver this talk to coincide with Holocaust Memorial Day commemorated on 27 January 2023.
On Holocaust Memorial Day (HMD) we remember six million Jews who were murdered in the Holocaust, along with other victims of Nazi and subsequent genocides in other countries of the world.
In the week running up to HMD, Steven Jaffe will discuss little-known connections between Belfast and the tragic events in Europe during World War Two. He will look in particular at people and places in west Belfast connected to the Jewish community. Steven's talk will range from Jewish footballers who played for Belfast Celtic to Ukrainian refugees who came to Belfast in the early twentieth century; from the Jewish section at City Cemetery to the Belfast Silk and Rayon factory on Waterford Street. Steven will also tell the story of a heroic Belfast woman who dedicated her life to helping Jewish refugees and Holocaust survivors.
Clonard Monastery, West Belfast, have kindly agreed to host this talk as part of their Peace Ministry outreach work.
About Steven Jaffe
Steven grew up in north Belfast, a member of Northern Ireland's tiny Jewish community. He is a history graduate of Cambridge University. Steven has worked as a grassroots advocate for leading Jewish community organisations in the UK. Passionate about the history of the community he grew up in, Steven is director of the award-winning Belfast Jewish Heritage project (link opens in new window) and leads Jewish walking tours in both Belfast and London. He co-chairs Northern Ireland Friends of Israel.
This event is free of charge, but we recommend booking. To book, please email contact Donald Bell by emailing belldonald@belfastcity.gov.uk.