Date: Tuesday 9 until Saturday 20 May 2023 at 7.30pm
Venue: Grand Opera House
Category: Arts and culture
---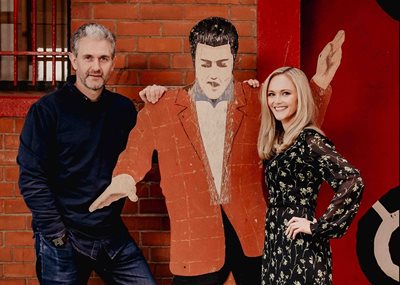 Watch the Lyric Theatre's smash hit production at the Grand Opera House.
It's 1970s Belfast. Terri Hooley - radical, rebel, music-lover is the owner of Good Vibrations record shop on 'the most bombed half-mile in Europe.' When the conflict shuts down his city, Terri and friends take sides and take up arms through the compelling voice of resistance in the city's underground punk scene.
Galvanising the young musicians into action, he becomes the unlikely leader of a motley band of kids and punks who join him in his mission to create a new community, an Alternative Ulster, and to bring his city back to life. This production features iconic punk anthems including Teenage Kicks, Just Another Teenage Rebel and Alternative Ulster.
For tickets, go to Grand Opera House (link opens in new window).
---
The Lyric Theatre production of Good Vibrations is supported by Tourism Northern Ireland, Tourism Ireland, Arts Council of Northern Ireland National Lottery funding and Belfast City Council.