Date: Sperrin AONB (25 June) and Causeway Coast AONB (2 July)
Venue: Sperrin and Causeway Coast Areas of Outstanding Natural Beauty (AONB)
Category: Arts and culture
---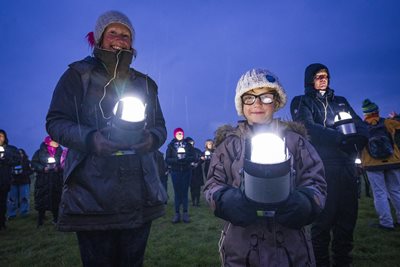 Gathering at dusk on Saturday 30 April hundreds of participants aka Lumenators, from all walks of life, came together at Giant's Ring Belfast for the first Northern Ireland event for Green Space Dark Skies.
Developed by outdoor art experts Walk the Plank, Green Space Dark Skies is part of UNBOXED: Creativity in the UK running April to September 2022.
Carrying a low impact Geolight designed by Siemens onto the Giant's Ring, Lumenators helped to create a large-scale artwork, celebrate nature and everyone's right to explore the countryside. Also in attendance was a mass choir premiering a new piece of music written by Katie Richardson. There was no live audience and the location was kept secret to protect the landscape.
The creative adventure was filmed and will soon be available to view at www.greenspacedarkskies.uk (link opens in new window)
The next Green Space Dark Skies NI events are Sperrin AONB (25 June) and Causeway Coast AONB (2 July) with a grand finale in September. More details soon.