Date: Saturday 4 February and Saturday 4 March 2023, 10am to 12 noon
Venue: Belfast City Cemetery
Category: City Cemetery
---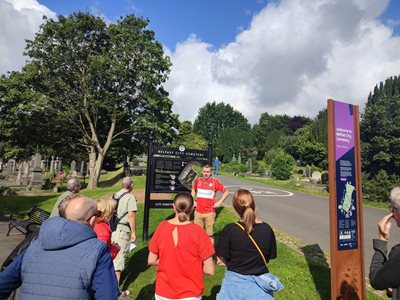 These tours will be delivered in Irish by local gaelscoil teacher, language activist and part-time historian Sean Fennell.
The March tour has been organised to coincide with Irish Language Week.
They will uncover the fascinating story of Belfast's early development in the 19th century and the people behind the revival of the Irish language.
The tours follow the growth of Belfast and its turbulent history, with visitors meeting a lot of interesting characters along the way!
There is a specific focus on the role of Protestant Irish enthusiasts in the Irish Revival period. Visitors will also hear about the history of Belfast, Ireland and the wider world including world wars, The Blitz, Belfast Celtic, education and more.
The tour includes a significant amount of walking and those attending should come suitably dressed for the weather conditions.
Book your place
This event is free of charge, but booking is strongly recommended. To book your place, email belldonald@belfastcity.gov.uk