Date: 12 noon - 1.30pm, Monday 20 September
Venue: Online
Category: PEACE IV
---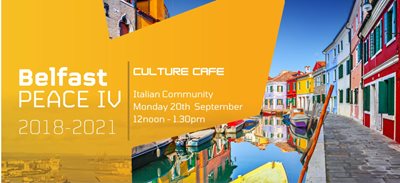 Belfast's Italian community and contribution to the city will be celebrated in the next of our PEACE IV Culture Café events.
Culture Cafés shine a spotlight on our multi-cultural city and promote a respect and understanding of the different cultures in Belfast.
Italians have been migrating to Northern Ireland since the 19th Century and while numbers are smaller than other communities, the Italians have had a massive impact on Belfast from the docks right over to City Hall.
The first wave of immigrants were skilled craftsmen who used marble and stone to produce intricate patterns on flooring and walls of many of the city's buildings.
Join this virtual event for an insight into the Italian community looking at the Italian settlement in the Sailortown area of the city. There will also been discussions on Italian cuisine with a special performance of Italian Jazz by Luigi.
Register at ND Events (link opens in new window)