Date: Available until 6 November 2020
Venue: Titanic Quarter
---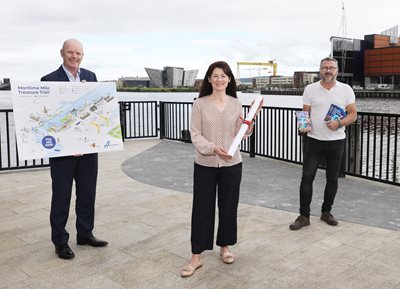 The Maritime Mile Treasure Trail is an ideal free outing for families.
The trail provides a unique waterfront experience where families and visitors can explore Belfast's maritime and industrial heritage outdoors, making this iconic walk both interesting and educational.
The treasure trail, available until 6 November offers an engaging way for adults and children to catch up on Maritime History and Heritage.
There are 18 stops along Belfast's iconic waterfront with questions, clues, facts and challenges all of which can be easily found on a series of information panels along the self-guided route.
There will be weekly prize draws as well as a main prize draw of a specially commissioned Maritime Mile painting by local artist and former Harland & Wolff employee Colin H. Davidson. There's also a mini explorers version of the trail, with prizes also available. Everyone who completes the experience will get their very own Maritime Mile certificate.
Starting from City Quays, the trail brings visitors along both sides of the River Lagan.
The Maritime Mile is a joint initiative between our partners Titanic Foundation and Belfast Harbour.
For further details go to www.maritime-mile.com