Date: 1 to 31 October 2023
Venue: Various locations across Belfast
Category: Positive Ageing Month, Seniors
---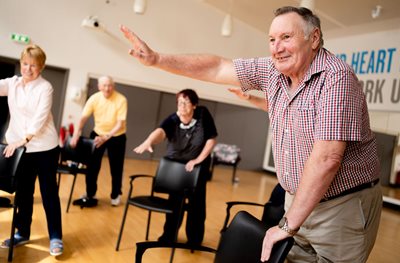 A month-long festival of events and activities for older people.
We hope it has activities to suit all tastes and will allow people to connect in some way.
It begins on Sunday 1 October at the Ulster Museum and then the Age Friendly Convention is in City Hall on Wednesday 25 October. Booking for some events is essential, so please check details.
Positive Ageing Month celebrates the contribution that older people make to their communities and the city of Belfast.
What's on?
What's on?
Older People's Activities in our community centres

Visit your local community centre and discover a world of new possibilities, right on your doorstep.

For more information, call 028 9040 1444.

| Activity | Day | Times |
| --- | --- | --- |
| Older Men's group | Mondays | 1.30pm to 3.30pm |
| Older Women's Group | Mondays | 7pm to 9pm |

---

For more information, call 028 9040 1444.

| Activity | Day | Times |
| --- | --- | --- |
| Crochet group | Mondays | 1.30 to 3.30pm |
| Older people's Bingo | Thursdays | 6.30pm to 9.30pm |

---

For more information, call 028 9071 2450.

| Activity | Day | Times |
| --- | --- | --- |
| Bingo | Wednesdays | 7.30pm to 9pm |
| Seniors Club | Fridays | 10am to 12 noon |

---

For more information, call 028 9040 1444.

| Activity | Day | Times |
| --- | --- | --- |
| Stroke Friend­ship group | Tuesdays | 10.30am to 12 noon |
| Cregagh Retired Active Gentlemen (CRAG) | Thursdays | 2pm to 4pm |
| Crochet group | Fridays | 10am to 12 noon |

---

For more information, call 028 9062 0474.

Activity
Day
Times

Knitting and Crochet group

(bring along your own knitting / cro­chet to work on and we provide the tea/coffee)

Mondays

11am to 1pm

(September to June)

Gentle yoga for people with mobility issues

Wednesdays

11am to 1pm

(September to June)

---

For more information, call 028 9033 2860.

| Activity | Day | Times |
| --- | --- | --- |
| Senior group Sports ses­sion | 10 October and 24 October | 2pm to 3pm |
| Cake making | Tuesdays | TBC |
| Digital ambassador - Helping over 50s get online | Wednesdays | TBC |

---

For more information, call 028 9071 9337.

| Activity | Day | Times |
| --- | --- | --- |
| Knit and Natter Group | Mondays | 10am to 12 noon |
| Art and Craft Class | Fridays | 10.30am to 12.30pm |

---

Olympia community space

For more information, call 077474 83887.

| Activity | Day | Times |
| --- | --- | --- |
| Older peo­ple's Bingo group | Wednesdays | 2.30pm to 4.45pm |

---

For more information, call 028 9048 1816.

| Activity | Day | Times |
| --- | --- | --- |
| Women's craft group | Mondays, Wednesdays and Fridays | 9.30am to 1pm |
| Luncheon Club (over 65's) | Tuesdays | 12.30pm to 2pm |
| Bridge Club | Tuesdays | 2pm to 4pm |

---

For more information, call 028 9032 8623.

| Activity | Day | Times |
| --- | --- | --- |
| Lunch and Leisure Club | Thursdays | 11am to 2pm |

---

For more information, call 028 9035 1548.

| Activity | Day | Times |
| --- | --- | --- |
| Arts and crafts for seniors | Wednesdays | 1pm to 4pm |

---