Date: Saturday 17 June, 5pm to 11pm
Venue: Stormont Parliament Buildings
---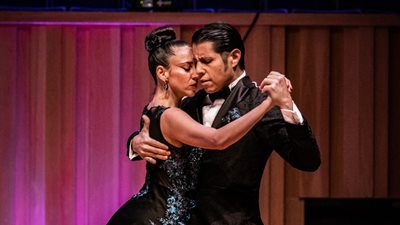 Argentine Tango Society invites you join with them in the historic building of Stormont. Dine in the Members room for a Finger buffet supper. Followed by a Grand Milonga.
Enjoy the splendour of the iconic grand hall! Experience dancing in the Great floors of this magnificent place and be dazzled by a spectacular performance from their professional dancers.
Elizabeth Cordone and Matias Rivas are dancers, choreographers and teachers of Argentine Tango. Their style is a link between stage tango and salon tango, forcing the limits but always respecting the roots, and starting from the true Argentine tango. They joined their paths dancing in the Buenos Aires night, in the tango show houses and in the milongas. Tango is their passion and their purpose is to defend and transmit their culture. In Buenos Aires, they have their Tango School "Recoleta Tango Studio". They have participated in numerous casts of dance companies, and currently travel around the world teaching and transmitting what tango is for them, the most beautiful dance that thrills the world.