Date: 9am to 5pm on Tuesday 3 October 2023
Venue: Titanic Hotel
Category: Business
---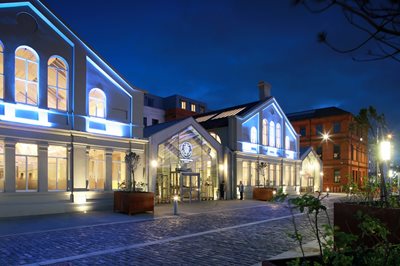 Register for our meet the buyer event.
This free event is open to all businesses. We are hosting the event and working with Team Resolute, ADS and SMI. There'll be a series of programme briefings, followed by short one-to-one introductory meetings with Team Resolute supply chain specialists. The event includes lunch and networking time. Team Resolute is a UK consortium consisting of Harland and Wolff, Navantia and BMT.
Face-to-face meetings with buyers
Buyers from the categories listed in the table will attend the event. To speak to a buyer, you must register for a slot.
Category
Examples of sub-contracting
Hard FM
Automated plant, innovation, renewables
Equipment - purchase and lease
Maintenance repair operations (MRO)
Equipment hire, inspection, maintenance, monitoring, remote or automated robotic repair plant
Services
Recruitment
Services
Trades:
Welders, electricians, cablers, insulation installers, fitters (interiors), shotblasters, machinists, pipers, specialist service providers, scaffolders, QA assurance (non-destructive essays, magnetic particles)
Equipment operators (heavy plant)
Services
Turnkey labour services, support services
Services
Support services: ancillary services, communications and marketing, laundry services, medical services, signage, temporary protections
Ship specific
Audio visual equipment - ship appropriate, cleaning, temporary lighting, support services - events, readiness, galley- laundry equipment, furniture, medical equipment
Ropes, consumables, gaskets, special rubbers, flooring systems
Ship outfitters, signage, lifesaving equipment, electrical equipment, change room, workshop equipment
pipes and accessories: instruments including gauges
For programme information and event registration, go to ADS (link opens in new window). It is free to register with ADS.