Date: 7pm - 8.15pm, Tuesday 22 June 2021
Venue: Online
Category: Online
---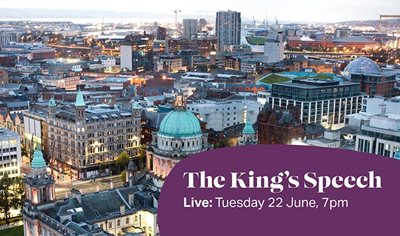 On 22 June 1921, King George V opened Northern Ireland's first parliament at Belfast City Hall. One hundred years on, join us to mark this historic moment.
We're holding an online event from 7pm - 8.15pm on Tuesday 22 June 2021, which will be live streamed through our YouTube channel (link opens in new window).
The event will feature:
a reading of the speech delivered by King George V at City Hall on 21 June 1921
following specialist conservation works, the unveiling of two chairs, used by King George V and Queen Mary at their visit to City Hall one hundred years ago
a talk, by political historian, broadcaster and commentator, Dr Éamon Phoenix, on the context, nature and implications of King George V's speech
the premiere performance of a specially commissioned play, centring on King George V's speech. The play has been developed by Terra Nova Productions in conjunction with young people throughout the city
The live elements of the event will be signed by a sign language interpreter and the talk and play will be captioned.
At 10.30pm, a lighting animation, featuring images of King George V's visit to City Hall on 22 June 1921, will be projected on the facade of City Hall.
You can view the lighting animation on our You Tube channel from 10.30pm.
The event is running as part of our Decade of Centenaries programme. Funded by The Executive Office, this programme commemorates a decade of key historical moments and events between 1912 and 1922 that shaped Northern Ireland and Ireland during this time.
We have also been awarded funding from the Shared History Fund, which The National Lottery Heritage Fund is delivering on behalf of the Northern Ireland Office, to deliver a number of projects to mark Northern Ireland's centenary year.