Date: 7 May to 30 September
Venue: Various locations, Belfast
Category: Family, Music, Park
---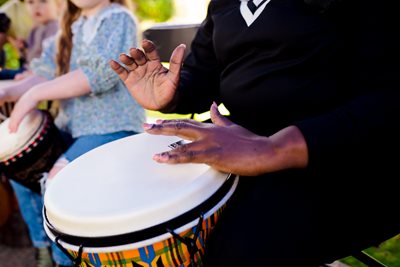 We've a programme of live music in various parks in the city from 7 May to 30 September.
Music in the Parks will feature a range of music from modern country, folk, jazz, trad, brass band and African drumming sessions.
The programme will run on Fridays and Sundays and will finish with a Grand Finale Concert at City Hall on Saturday 30 September.
June 2023
Date and time
Location
Event
Sunday 4 June, 2pm to 5pm
Ormeau Park

Northern Ireland Bands' Association

Ormeau Concert Band - 2pm to 2.50pm

Lord Londonderry's Own CLB Flute Band - 3.10pm to 4pm

CWA Brass Band - 4.10pm to 5pm

Sunday 11 June, 1pm to 3pm

Falls Park

Traditional Irish Music

Friday 16 June, 1pm to 3pm
Alexandra Park

Donna Nakumsa, African Drumming Circle

Friday 23 June, 1pm to 3pm

C.S. Lewis Square

Jackie Rainey

Friday 30 June, 1pm to 3pm
Sir Thomas and Lady Dixon Park

Wookalily (Folk)
July 2023
Date and time
Location
Event
Sunday 2 July, 2pm to 5pm
Sir Thomas and Lady Dixon Park

Northern Ireland Bands' Association

Dynamic Brass Band - 2pm to 2.50pm

Ballylone Concert Flute Band - 3.10pm to 4pm

Laganvale (Metall Technologies) Band - 4.10pm to 5pm

Friday 7 July, 1pm to 3pm

Victoria Park

Ukulele Jam

Friday 16 July, 1pm to 3pm
Drumglass Park

Winnie Ama and the Band

Friday 21 July, 1pm to 3pm

Botanic Gardens

Belfast Busking Band

Thursday 27 July, 1pm to 3pm
Springfield Dam

Duffy Family Band

Sunday 30 July, 1pm to 3pm
Pairc nua Chollan

The Rogues
August 2023
Date and time
Location
Event
Friday 4 August, 1pm to 3pm
Botanic Gardens

Belfast Groove Collective

Sunday 6 August, 2pm to 5pm

C.S. Lewis Square

Northern Ireland Bands' Association

Lily of the Valley Accordion Band - 2pm to 2.50pm

Ballymena Young Conquerors Flute Band - 3.10pm to 4pm

Wellington Silver Band - 4.10pm to 5pm

Friday 11 August, 1pm to 3pm
Woodvale Park

Donna Nakumsa, African Drumming Circle

Friday 18 August, 1pm to 3pm

Waterworks Park

The Knievels

Sunday 27 August, 1pm to 3pm
Sir Thomas and Lady Dixon Park

Karen Fearon
September 2023
Date and time
Location
Event
Friday 1 September, 1pm to 3pm
Botanic Gardens

Donna Nakumsa, African Drumming Circle

Sunday 3 September, 2pm to 5pm

C.S. Lewis Square

Northern Ireland Bands' Association

1st Larne Old Boys Silver Band - 2pm to 2.50pm

Corcrain Flute Band - 3.10pm to 4pm

Third Carrick Silver Band - 4.10pm to 5pm

Sunday 10 September, 1pm to 3pm
Ormeau Park

Myles McCormack

Sunday 17 September, 1pm to 3pm

Sir Thomas and Lady Dixon Park

Scott Flannigan Jazz Trio

Friday 22 September, 1pm to 3pm
Drumglass Park

David O'Donnell Anderson

Saturday 30 September, 1pm to 5pm

City Hall

Grand Finale

String Ninjas - 1pm to 1:45pm

Kerry Fearon - 1.50pm to 2.35pm

Wookalily - 2.40pm to 3.25pm

Belfast Groove Collective - 3.30pm to 4.15pm

The Belfast Rock Choir - 4.15pm to 5pm