This page is more than a year old and may not contain the most up-to-date information.
Date: 22 Jan 2021
---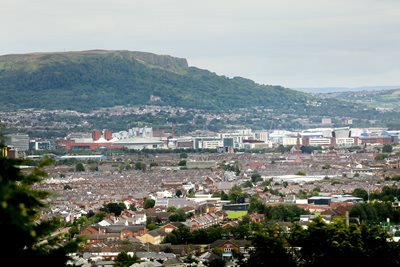 14 community projects in Belfast have received a funding boost thanks to a partnership between Belfast City Council and the Department for Communities.
A £2 million joint funding package will help deliver a range of community facilities including new and improved play parks, sports facilities, community buildings, park pathways and community walkways.

Welcoming the partnership, Councillor Christina Black, Chair of Belfast City Council's Strategic Policy and Resources Committee, said: "This is great news for the local communities who will benefit from this funding package. I am delighted that the Department for Communities has agreed to match-fund Council's £1 million investment to ensure that the projects can go ahead.

"One of the aims of The Belfast Agenda, the city's long-term community plan, is for partners in the city to work more closely together to help regenerate neighbourhoods and ensure that we invest in projects that make a real difference to local people. This joint investment is an example of how this is happening, with Council overseeing the delivery of the projects as part of our wider capital investment programme."

Communities Minister, Deirdre Hargey said: "I am delighted that my Department has been able to work in partnership with Belfast City Council to match-fund these worthwhile projects.

"This is a great example of collaborative working to achieve our shared goals of regenerating neighbourhoods and making a positive and lasting impact within local communities. I welcome this great opportunity to help shape the development of these communities and provide improved facilities for years to come.

"At this time I am also more committed than ever to helping our local communities to be more attractive and welcoming places as we support them through this difficult time and in their recovery from the economic impacts of COVID-19."

The 14 projects include:
Upgrades to Vere Foster, Falls Park and Ohio Street playgrounds.
Replacement of the 3G pitch surface and upgrade of the playground at Grosvenor Community Centre.
Improvements to St James Community Forum's urban farm and community garden, including new buildings for the animals and new community and educational facilities.
A new safe play area and community garden on waste ground adjacent to the Lagan Village Youth and Community Centre.
A new changing pavilion for Berlin Swifts Football Club.
New modular changing facilities at the Willowbank Multi-Sports Centre.
Additional contributions to the upgrade of a section of Ballymacarrett Walkway, a multi-agency partnership project with the Urban Villages Initiative.
Partial replacement of the damaged roof at the Hanwood Centre.
Extra funding towards the construction of the new Grace Family Centre, which is nearing completion.
Additional contributions to Marrowbone Community Hub Teach Eilís, another multi-agency partnership project with the Urban Villages Initiative.
An upgrade to the pathways and additional planting at the park at Old Golf Course Road.
Improved lighting at the recently relocated Navigation Buoys in Titanic Quarter.
For information on Belfast City Council's £400 million capital investment programme, visit www.belfastcity.gov.uk/investment