This page is more than a year old and may not contain the most up-to-date information.
Date: 06 Mar 2020
Category: Parks
---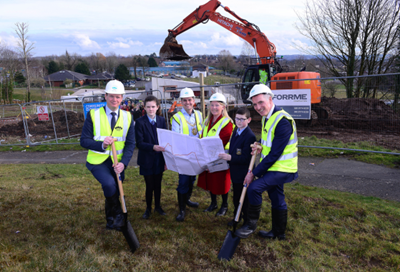 A new £5 million park development in west Belfast will provide a welcoming, shared space for local residents and visitors.
A new £5 million park development in west Belfast will provide a welcoming, shared space for local residents and visitors.
Lord Mayor, Councillor Daniel Baker, joined Junior Ministers Declan Kearney and Gordon Lyons at the official sod cutting ceremony on the site of the transformational project at Stewartstown Road on Thursday afternoon.
Speaking at the sod cutting ceremony, the Lord Mayor said: "I am delighted to see work get under way on this new destination public park in the Colin area. When it opens next year it will be an extremely valuable addition to the local community. Like the council's recent £15 million investment in the new Brook leisure centre which opened in December, I hope the new park will attract many people to the area who may not have previously visited.
"This investment by The Executive Office's Urban Villages Initiative supports the aspirations of our Belfast Agenda which aims to improve the health and wellbeing of all our citizens. Our parks and open spaces are extremely important assets which encourage people to enjoy the outdoors and get more active, so this new park will make a big difference to people's lives."
Junior Minister Kearney said: "This new park will be a fantastic facility that will deliver something for everyone.
"This £5 million investment under The Executive Office's Urban Villages Initiative will incorporate a play area for younger children, an event space, a nature education area and a youth zone.
"There will be park runs, events and other activities for people of all ages to get involved in, so it will be a superb space for local people and visitors alike.
"There is a diverse local community ready and waiting to enjoy this fantastic new park, which will be a safe, shared space - a place for everyone to enjoy."
Junior Minister Lyons said: "Along with other capital projects, completed or still in development across the area, the Urban Villages Initiative is investing in creating shared, welcoming spaces.
"This new park provides an opportunity to build on and develop new friendships with people from all backgrounds through a range of diverse and inclusive activities, bringing people together locally, across Belfast and further afield, in this new quality park environment.
"This ambitious project reflects a confidence and desire to look ahead. It is about moving forward positively and overcoming the differences of the past."
The project is being delivered in partnership with Belfast City Council on land transferred to the local authority by the Department for Communities.
Communities Minister Deirdre Hargey said: "I am delighted that my Department has been able to make this land available for this important project. The new park will provide an exciting location to host and facilitate cross community and good relations programmes. It sounds like it will be a fun, educational and welcoming place that will become a real community hub. I wish everyone well with the project and can't wait to see the final result."
The work will transform the vacant 17-acre site into a high quality destination park for locals and visitors of all ages.
It will include a play park, teen space, pump track, event space, environmental learning zone and wetland habitat.
The new facility will provide a high quality contemporary shared space, improving connectivity across the whole Colin area.
The 'Leap of Faith' sculpture - developed in 2010 by the local community in partnership with schoolchildren reflecting the aspirational leap from adolescence into adulthood - will be relocated to become a prominent feature at the entrance of the new park.
The sod cutting was attended by local community representatives, school pupils and residents, as well as Syrian families who have recently moved into the area and groups from the EastSide Urban Village who have been participating in cross-city projects with organisations in the Colin area.
Work on the Colin park project is expected to be complete by spring 2021.