This page is more than a year old and may not contain the most up-to-date information.
Date: 14 Apr 2021
---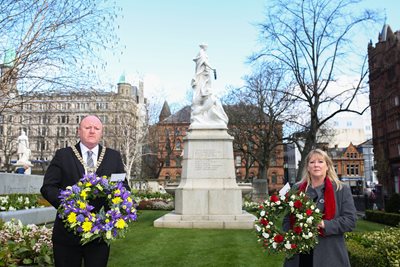 The Lord Mayor of Belfast, Alderman Frank McCoubrey has paid tribute to the lives lost on the RMS Titanic, on the 109th anniversary of the ship's sinking.
For the second year, the annual commemoration service held in the Titanic Memorial Garden at City Hall has had to be cancelled due to the ongoing pandemic. Instead, a short commemorative video will mark the anniversary and can be viewed tomorrow (Thursday 15 April) on Belfast City Council's website.
Alderman McCoubrey said: "We may not be able to gather in person, but it is important, as it is every year, to remember the lives that were lost on Titanic all those years ago. We hope that the short commemorative video will allow people to still mark the anniversary, giving them the opportunity to pause and reflect."
More than 1,500 people perished at sea in the early hours of 15 April, 1912 after the Belfast-built Titanic struck an iceberg on her maiden voyage.
Alderman McCoubrey and Belfast Titanic Society President Susie Millar will lay wreaths at City Hall's Titanic Memorial Garden on Thursday 15 April.
"It is an honour to pay my respects alongside the Belfast Titanic Society, an organisation that works tirelessly to keep the story of Titanic connected to our city," said the Lord Mayor.
"Nowhere was the ship's loss more deeply felt than here in Belfast - the city where Titanic was built. Indeed, we created the Titanic Memorial Garden at Belfast City Hall to help renew our memories to all those who lost their lives on board."
Susie Millar, who also participated in the video, said: "It's important that we continue to do this year on year, even though it's 109 years since Titanic was lost. It's important that we, as a society, and we in the city of Belfast continue to hold this ceremony and just to take those few minutes to think about those who were lost."
The wreaths will be laid at the memorial plinth, which includes 15 bronze plaques, listing the names of the 1,512 who perished. They will be laid on behalf of the relatives who would usually attend the memorial service in person.
The video includes footage of the memorial garden and a short prayer and reflection by the Reverend Ian Gilpin from the Non-subscribing Presbyterian Church in Comber.
Alderman McCoubrey said: "We would encourage people view this short commemorative video on 15 April and join us in remembering the lives lost, especially the relatives and descendants of those who lost loved-ones on RMS Titanic."