Date: 10 Mar 2020
---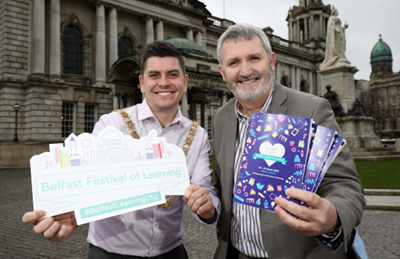 Access to learning opportunities can help people build positive mental health and wellbeing and better resilience according to the Belfast Festival of Learning.
That's why this year's week-long festival programme, celebrating its fifth year, is themed on tackling mental health and well-being and building stronger resilience amongst citizens to help people deal with the stresses and strains of everyday life.
Taking place from Monday 23 to Sunday 29 March, the festival will showcase the many networks and organisations offering learning opportunities across the city through over 100 different interactive events.
Lord Mayor of Belfast, Councillor Daniel Baker launched the festival programme today (Tuesday 10 March) at city hall. He said: "Our Belfast Agenda sets out a vision of Belfast being a great place to live for everyone – and providing accessible learning opportunities for everyone in the city is absolutely central to achieving that vision. The more confident and skilled our communities are, the more prosperous, connected, equitable and prepared our society becomes.
"The theme of health and well-being and building resilience is very appropriate as the council recently launched its draft resilience strategy, looking at ways we as a city can tackle the stresses and strains of everyday life. I want to be a champion of positive mental health and wellbeing and this year's festival theme connects with my ambition to promote the 'Take 5' steps to health and wellbeing."
He added: "The Belfast Festival of Learning is playing a really active role in giving people within Belfast the opportunity to access free learning through fun accessible events. There really is something for everyone to try – so I'd encourage you to grab a programme and have a go at what's on offer as you never know what adventures and opportunities it could lead to!"
Some of the events on offer include Old Time Dancing, Science Starz fun at Cloona House, nature & history walks on Cave Hill, Feel Good Yoga & Mindfulness for Teens at Divis Community Centre, IT classes in community centres across the city, Silver Screen Sing – Song at Strand Arts Centre and much more.
Danny Power, Chairperson of the Belfast Festival of Learning is looking forward to a busy festival programme. He said: "Belfast has an opportunity to work together to use learning to tackle inequalities and improve the quality of life for all through the Learning City efforts. The Belfast Festival of Learning is a great example of how this can be done and also showcases what the city has to offer."
The festival is a celebration of Belfast joining the UNESCO Global Network of Learning Cities, with a vision of Belfast as a learning city for everyone 'putting people at the heart of learning'.
For a list of some of the events taking place visit www.belfastcity.gov.uk/festivaloflearning or to download the full festival programme visit www.makinglifebettertogether.com. You can share your festival experiences on social media using #BelfastLearningCity