This page is more than a year old and may not contain the most up-to-date information.
Date: 11 Sep 2022
---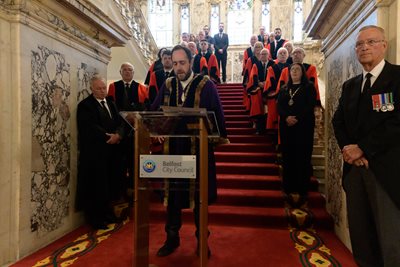 The High Sheriff of Belfast Councillor John Hussey donned ceremonial robes for a re-reading of the Accession Proclamation at Belfast City Hall today.
It followed the passing of HM Queen Elizabeth II. Official Proclamations were read across the UK at 12pm on Sunday – at Royal Hillsborough and in Edinburgh and Cardiff - following the reading of the Principal Proclamation of the new King, Charles III, at St James' Palace in the City of London on Saturday.
The High Sheriff was joined by The Lord Lieutenant of the Co Borough of Belfast, Dame Fionnuala Jay-O'Boyle, for the re-reading of the Proclamation in Belfast City Hall.
Crowds gathered in the reception area of the iconic building to hear the Proclamation being read.
Following the re-reading of the Proclamation, Members of Belfast City Council met in the Council Chamber for a Special Meeting of Council to pay tribute to the late Queen.
Books of condolence have been opened to allow members of the public to pay their own personal tribute to Queen Elizabeth II.
For more information, visit www.belfastcity.gov.uk/queenelizabethII