Date: 10 Aug 2018
---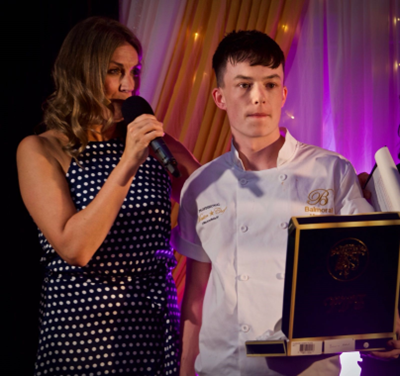 Only those who'd proved they could take the heat made it through to the finale of this year's Professional Master*Chef Competition in the Balmoral Hotel's Grand Ballroom yesterday evening.
The event was part of the 30th Féile An Phobail festival programme and delivered in partnership with Hospitality Ulster.
The four competing chefs' own summer dishes were submitted anonymously under an assigned number and written reports by food writers Joris Minne, Alison Morris and Nicci Smith to the judging panel, led by top NI chef Danny Millar, Michelin Star Chef Dani Barry and food writer Robin Livingstone.
Belfast Lord Mayor Councillor Deirdre Hargey praised all involved for showcasing the best the city of Belfast has to offer, saying: "Tonight has been a true celebration of Belfast's hospitality industry; highlighting the current high demand for chefs and encouraging our young people to consider becoming chefs. And with our tourism figures continuing to rise, the hospitality industry offers young people an exciting and rewarding career path.
"We've made a commitment in our Belfast Agenda to transform skills, employability and aspiration so that we increase business growth, employment and incomes – so we're delighted that the Balmoral Hotel and Féile have pursued this bold initiative, backed by the major players in the hospitality industry.
"Chefs from Belfast's top kitchens demonstrated real vision and ambition as they competed for the title of Balmoral Hotel Professional Master*Chef 2018 at this evening's gala event, showcasing the cream of local talent and local produce. Belfast is now firmly on the tourism map as a foodie destination, and going by the top quality dishes that we've experienced tonight, it's well-earned recognition.
"Well done to the winner Callum Irwin from The Muddlers Club, Cathedral Quarter. Callum now has the opportunity to take his career to new heights as he claims his coveted prize – a 'stage' with the master Michelin Star chef Nigel Haworth, along with flights and accommodation. Master*Chef2018 has been an overwhelming success, so well done and a big thank you to everyone involved."
The Lord Mayor also took the opportunity to highlight Belfast City Council's innovative Hotel Employment Academy to assembled guests. It offers those interested in working in the hospitality industry the perfect opportunity to develop relevant skills and gain valuable work experience. The programme is open to anyone living in the Belfast City Council area, currently out of work, or working less than 16 hours a week. For more information, go to www.belfastcity.gov.uk/employability