Date: 08 Aug 2023
---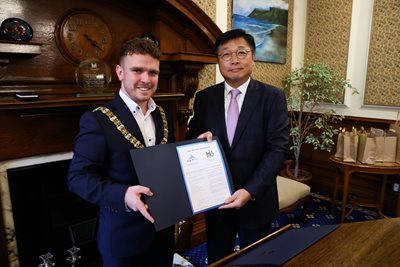 Belfast welcomed a mayoral delegation from the South Korean city of Sejong to City Hall yesterday (7 August) to sign co-operation agreements to support business growth, academic collaboration, and knowledge exchange.
Both cities are participants in the Connected Places Catapult UK-Republic of Korea Innovation Twins Programme, which is supported by UK's Department for Science, Innovation and Technology (DSIT), specifically by the International Science Partnerships Fund (ISPF).
Sejong is almost the same size as Belfast, is the administrative capital, and is home to many national government ministries. The city has a big focus on digital innovation with research and industrial strengths in AI, positive use of drone technology, cybersecurity and smart city programmes.
During the Belfast visit, several memoranda of understanding are being signed between:
Belfast City Council and the Sejong city administration
Invest NI and Sejong Technopark
Queen's University and Korean University Sejong
Belfast Lord Mayor, Councillor Ryan Murphy said: "It's an honour to welcome the Vice Mayor for Economic Affairs, Seung Won Lee, and his colleagues to share learning and explore the potential to accelerate long term research and innovation collaborations, generate opportunities for trade and inward investment and unlock government funding to support our inclusive growth ambitions for Belfast, improve quality of life here and future proof our city.
"Already, as a result of the Innovation Twins Programme, local companies including Civic Dollars, CD Tours, GetSociable, Kinsetsu, Networkfit, SeeSense, Streetdock and WeaveLabs have received a share of £100,000 funding, along with training and support to develop and profile a range of products in areas such as virtual tourism, community rewards programmes, last mile delivery, safer cycling, recycling behaviour, fitness hubs and personal safety. Streetdock successfully participated in a follow up trade mission to South Korea.
"During their visit to Belfast, we hope that our guests will see that innovation has always been in Belfast's DNA – and today, it's a fantastic place to nurture new ideas, to grow businesses, and solve urban challenges. We'll be sharing the ambition and key priorities of our Smart Belfast urban innovation programme, and they'll visit Weavers Cross, our two universities, Queen's and Ulster, Catalyst, and Invest NI - as well as taking in Titanic Belfast. It's our intention to explore city, academic and business exchanges in relation to smart city technologies, net zero, digital twins, cyber security, urban mobility, transport and city centre living."
Connected Places Catapult's Chief Executive, Nicola Yates OBE said: "This Memorandum of Understanding between Belfast and Sejong marks the start of a longer-term collaboration, to develop sustainable relationships that deliver tangible outcomes, creating jobs and growth in both regions.
"The scale of the opportunity is large, with the potential to unlock new business and research opportunities for innovative companies, and cross-city learning. Connected Places Catapult is delighted to have helped broker this relationship through the Innovation Twins programme that we are delivering."
The delegation will also learn about opportunities being created over the next decade through the transformative programme of Belfast Region City Deal investment, including the establishment of five new global research centres in advanced manufacturing, digital media, connected health, and AI, modernisation of the city's strategic digital infrastructure through next generation wireless connectivity, shared urban data systems and a series of Challenge funds to help SMEs research and develop solutions to address urban challenges.