Date: 17 Jan 2020
---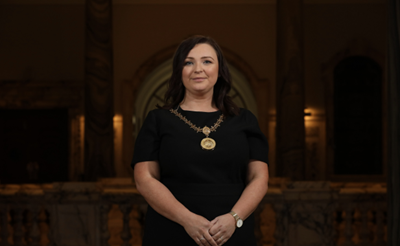 DUP Councillor Nicola Verner has been sworn in as the new High Sheriff of Belfast. Councillor Verner succeeds party colleague Alderman Tommy Sandford, becoming the 120th High Sheriff of the city and the 13th woman to hold the position.
The traditional swearing in ceremony took place in the Reception Room of Belfast City Hall and was attended by Councillor Verner's fellow councillors as well as family and friends.
The DUP politician was elected to represent the Court District Electoral Area in last May's Local Government elections.
As well as serving on various committees with Belfast City Council, Councillor Verner also sits on a number of external bodies including Arc21 and Building Successful Communities.
Belfast's new High Sheriff said she is looking forward to an exciting year ahead. "I'm very proud to be the 120th High Sheriff of Belfast and only the 13th female to hold the title. I'm looking forward to a busy and exciting year ahead and I promise to serve the people of Belfast to the best of my ability," Councillor Verner added.
"It's an honour to take on such a prestigious role and I will do my best to support both the Lord Mayor and Deputy Lord Mayor throughout my year."
The Local Government (Ireland) Act of 1898 provided for the appointment of a Sheriff for the newly created County of the City of Belfast. The first High Sheriff of Belfast, Sir James Henderson, was appointed in January 1900.
Unlike the Mayoral year, the post of High Sheriff begins in January and ends in December.
Historically, the role of High Sheriff has been 'protector of the monarch`s interests': however, it is now largely ceremonial and - since 1973 - the appointment has been made by the Secretary of State, based on a nomination from Belfast City Council.
For more information visit www.belfastcity.gov.uk/council and find out more about the High Sheriff role