Date: 15 Nov 2018
---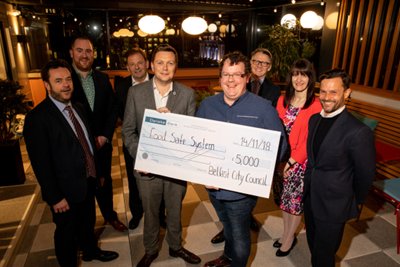 A Belfast start-up business has walked away with a valuable cash injection, thanks to the backing of a panel of investors.
Food Safe System, who have developed an app designed to reduce the amount of paperwork for the food service industry, landed the £5,000 top prize in a special 'Pitch To Pros' competition, organised by Belfast City Council as part of the annual Global Entrepreneurship Week. Their winning pitch was delivered to a panel of experts from the competition's sponsors- B4B Telecoms, Bywater, Glandore, MCE Public Relations, MSM Law and The Innovation Factory – at Glandore's city centre co-working space last night (Wednesday 14 November).

Speaking afterwards, Neil Bradley, founder of Food Safe System, said:

"I'm delighted to have won, especially as the competition was really tough and every one really stepped up to the plate. The £5,000 will help with further product development, marketing and implementation in the Spanish market, where we have just won a large contract."

Runners-up McAnallen, who are developing a new range of disability and mobility aids, will receive one year's free membership of The Innovation Factory. Third-placed happyDOG Restaurant, a gourmet hot dog house in Stranmillis, will get six months' free membership of Glandore.

Running until Sunday (18 November), Global Entrepreneurship Week sees a variety of free events aimed at engaging budding or existing entrepreneurs from every sector, putting them in front of organisations and individuals who can help them reach the next level.

As part of the week-long programme, Belfast City Council is working with local enterprise centres as well as a number of support organisations, from banks and start-up supporters to health and safety advisers and employee rights groups, to create a diverse support network offering something to help every type of entrepreneur in the area.

Councillor Donal Lyons, Chair of the Council's City Growth and Regeneration Committee, said:

"Each year, Global Entrepreneurship Week presents an opportunity for us to show new business owners and budding entrepreneurs the depth of support available to them via both ourselves at Belfast City Council and the support organisations throughout the city.

"With this year's theme of 'Investing in our city's future, one business at a time', the 'Pitch To Pros' competition has demonstrated the wealth of innovation we have here in Belfast, and the commitment of our entrepreneurs to establish both themselves and our city in the global marketplace. We want to nurture and encourage these ideas with professional advice and support, as they are the future of our thriving business community here in Belfast."

Enterprise centres and business hubs across the city are also hosting their own bespoke seminars, classes and exhibitions.

A 'Start A Business' event is being hosted in the Great Hall in City Hall today (Thursday 15 November). It is a free to attend exhibition event with over 20 advice organisations on hand to answer questions and impart advice on attendees on the day. There are stalls covering key areas for new businesses from funding, grant support, energy costs, tech support, innovation, strategy, cross-border trade and more.

For information on all remaining events taking place during #BelfastGEW18, you can visit www.belfastcity.gov.uk/GEW and follow the links within each event description to register and reserve your place where needed.