Date: 24 Oct 2023
---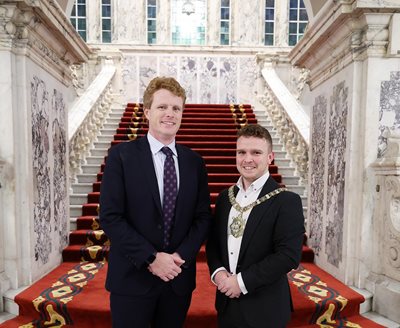 Belfast Lord Mayor Councillor Ryan Murphy has this evening hosted a reception for U.S. Special Envoy to Northern Ireland, Joseph Kennedy III and his Senior Business Delegation at City Hall, attended by a wide range of city and regional partners and business representatives.
Guests also included several One Young World ambassadors, along with recent graduates from Belfast City Council's Employment Academies; representing the city's young leaders and strong talent pool.
The reception was part of a wider programme led by The Executive Office, Department for the Economy and Invest Northern Ireland.
Lord Mayor Councillor Ryan Murphy said: "We've been looking forward to supporting this delegation since President Biden announced it during his visit to Belfast in April. It's a welcome opportunity to celebrate the many very special connections we have with the U.S. from diplomatic relations to investment, knowledge sharing, tourism, education, and cultural exchange.
"It's given us a platform to proudly showcase our city's transformation, our investment proposition, our strengths in tech, innovation, talent, education, the creative and screen industries, and more. We've also shared our exciting plans for our year of culture, Belfast 2024, hosting EURO 2028 and creating the landmark city centre visitor attraction, Belfast Stories.
"Our strength sectors are set for continued growth, thanks to the £1bn Belfast Region City Deal programme of investment over the next decade – and we're supporting that with skills programmes to connect people to new and better jobs and services.
"We've set out a giant and bold ambition for this city in The Belfast Agenda – including attracting an additional 66,000 residents by 2035; and we'll soon be going out to seek a long-term master developer partner to develop residential-led, mixed-use schemes to the value of over half a billion pounds to catalyse that growth.
"With the help of our friends and investors, we'll achieve our city ambitions and improve quality of life for everyone living here."
For more information on Belfast's investment proposition, visit www.investinbelfast.com