Date: 19 Oct 2020
Category: Climate and biodiversity
---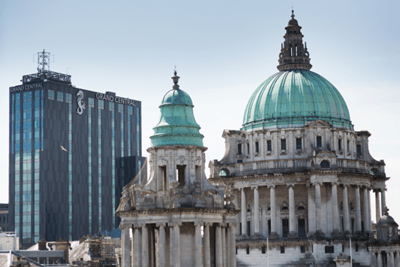 Belfast's commitment to tackling climate change will be front and centre at two major all-Ireland events highlighting some of the work Belfast City Council and partners are doing as part of a citywide partnership to transitioning to an inclusive, low-carbon, climate resilient economy within a generation.
Tomorrow (Tues 20 October) Belfast's Resilience Commissioner Grainia Long will speak alongside the Minister for Agriculture, Environment and Rural Affairs Edwin Poots at a British Irish Council virtual symposium on creating climate resilient infrastructure.
Belfast and Dublin have a longstanding working relationship built up over many years, primarily focused on issues relating to economic development and city growth. The topic that is being presented by Belfast is "Designing Resilient Cities: Integrating Economic and Climate Strategies".
Belfast Lord Mayor, Alderman Frank McCoubrey said the ongoing pandemic had underscored the importance of marrying economic goals with climate objectives as part of the recovery journey, post-Covid19.
He added: "Since we declared a climate emergency last October, we have been taking a lead in the battle against climate change. I'm delighted that we will have the opportunity to highlight some of the important work we're doing at these headline events, and hopefully we can inspire others and build momentum around the need for a collective response to addressing climate change.
"Belfast is taking a holistic and urgent approach to climate action by aligning its climate strategy with its economic strategy. We recognise the damage that climate change can do to our economy, but we also want to boost our economy by investing in climate resilient infrastructure such as green energy."
Cooperation Ireland is also hosting a series of climate change events in October. Belfast will be profiled at the event this Wednesday (21 October) where the theme is Strategic Policy and Economic Context and Belfast. It will be tackling the issue of "The Net Zero Carbon Roadmap for Belfast - From Global to Local".
Net zero carbon is when the amount of carbon dioxide emissions released on an annual basis is zero or negative. A recent Mini Stern report has revealed that Belfast will use up its share of the carbon budget through to 2050 in just over nine years.​We need to close the gap and work towards a zero-carbon economy with a focus on areas such as housing.
Commenting on this, Alderman McCoubrey said: "Last November, we announced plans to develop an 18-month programme to tackle the environmental crisis and work on this climate plan is well underway.
"One of the primary aims is to work towards the elimination of carbon-dioxide emissions in the city and establish targets for decarbonisation so this is a great opportunity to share this ambition and how we hope to get there."
Belfast City Council has set up a number of governance structures to ensure it deals with these issues urgently through partnership working and other institutions. This includes a Belfast Climate Commission (co-chaired by Belfast City Council and Queen's University), a Resilience and Sustainability Board and an All Party Working Group on the Climate Crisis which is taking forward the development of the Council's own plan.