Date: 03 Dec 2019
---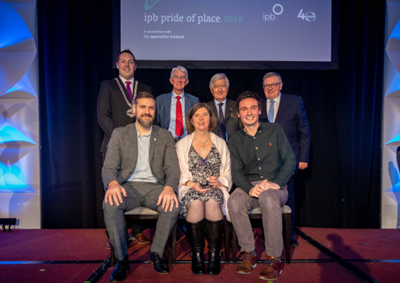 Three Belfast community projects have been honoured at the all-Ireland Pride of Place community awards.
Three Belfast community projects have been honoured at the all-Ireland Pride of Place community awards.
The Pride of Place competition was initiated 15 years ago through a Co-operation Ireland programme to acknowledge the invaluable work undertaken by volunteers and those involved in local community development.
It has grown into the largest competition recognising community development achievements on the island of Ireland.
The Belfast based City Connections shared top spot in the Communities Reaching Out Initiative category with the Liberties Cultural Association in Dublin – the first time an award as ever had two winners at the Pride of Place awards.
The judges praised City Connections for both promoting tourism, and creating links between West and East Belfast.
"This project was developed as part of the ongoing work of the East/West Belfast Local Tourism Development Steering Group which is made up of Eastside Tourism incorporating EastSide Visitor Centre, EastSide Arts, Fáilte Feirste Thiar, Féile an Phobail and An Chultúrlann.
"This very impressive project clearly demonstrated what can be achieved when people get together with a common goal in developing a project based on the unique people and history of their respective areas and creating sustainable employment and high quality products.
"This fantastic project brings people beyond the main city centre streets into two special urban streets bursting with energy, excitement, stories, eclectic cafes, restaurants and shops and some fantastic heritage attractions, highlighting its people and heritage all brought together with unique taxi and bus services. The excellent presentations clearly demonstrated that this is an initiative that will continue to grow."
The Belvoir Area Residents Group (BARG) tasted success in the Urban Areas over 3,000 population category, taking top spot and beating off competition from Edenmore in Dublin.
Short Strand Community Forum were also runners up in the Best Urban Neighbourhood Project category.
900 representatives from counties across Ireland gathered in the Lyrath Estate Hotel for the awards, hosted by Kilkenny County Council.
Pride of Place founder and Chairman Tom Dowling said; "These Awards continue to be as important as ever after all these years and the purpose of the awards has never changed. They are about recognising and celebrating the extraordinary, inspirational tireless work being done by communities all over the Island of Ireland as they strive to make their place a better place in which to live."
Dr Christopher Moran, Chairman of Co-operation Ireland said: "Pride of Place deserves its position as one of the most prestigious community awards on the island of Ireland and Co-operation Ireland is delighted that it continues to go from strength to strength."
George Jones Chairman, IPB Insurance said: "IPB Insurance is proud to be title sponsors of Pride of Place and most importantly what these Awards represent. As a mutual insurer of local authorities and their communities, these awards are an excellent fit as they recognise how volunteerism at a local level delivers an all-island social impact creating better places to live, work and socialise."
To find out more about the 209 Pride of Place awards visit the website at https://prideofplace.ie/