Date: 13 Aug 2020
---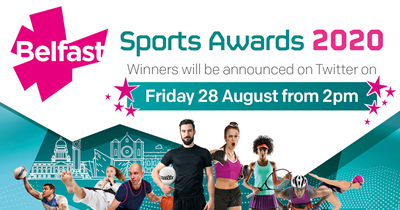 This year's #BelfastSportsAwards 2020 will have a very different look and feel as nominees and winners will be officially announced on the council's social media for the very first time.
Due to the uncertainty surrounding the Covid-19 pandemic the usual celebratory event, due to be held in Belfast City Hall earlier in the year, was cancelled in adherence with government guidelines and to ensure the health and safety of those due to attend.
To ensure the achievements and sporting successes of coaches, athletes and teams aren't overlooked and still receive recognition, announcements for nominees across each category will take place on the council's twitter channel, @belfastcc, from Friday 14 August, with the overall winners being unveiled on Friday 28 August from 2pm.
Lord Mayor of Belfast, Alderman Frank McCoubrey is delighted that this year's nominees will receive some recognition for their achievements.
He said: "It's fantastic news that our Belfast Sports Awards 2020 will still take place albeit in a new format. These are unprecedented times and we, as a city, have had to adapt to change quite rapidly. We may not be having our usual celebratory event in City Hall, but we will certainly be shining the spotlight on all our winners on our social media platforms.
"Belfast is a small city that punches way above its weight when it comes to sporting success across many different sporting codes. From the professional ranks, right down to grass roots level, people across the city continue to do great things and it's important that we take the time to recognise their great achievements."
He added: "I'd like to congratulate all those nominated for this year's awards and wish everyone good luck when the winners are announced later this month."
This year, there will be 14 awards presented in total across seven categories. Those categories include Pathway to Clubs, Healthy Lifestyle sponsored by Active Belfast, Coach of the Year sponsored by GLL, Team of the Year sponsored by Decathlon, Sports Personality of the Year sponsored by Commonwealth Games Council and Sports Medicine NI and Volunteer of the Year sponsored by Clubforce.
There will also be inductees to our Sporting Hall of Fame which already includes sporting heroes such as Dame Mary Peters, Dr. Michael McKillop, Wayne McCullough, David Humphries and George Best (posthumously).
To keep up to date with the announcements of the nominees and winners of this year's #BelfastSportsAwards 2020 please ensure follow the council's Twitter account @belfastcc (link opens in new window). And for more information on our #BelfastSportsAwards 2020 visit the council website at https://www.belfastcity.gov.uk/sportsawards.