Date: 27 Feb 2019
---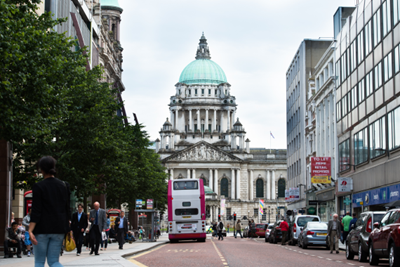 Pedestrian access to Castle Street via Fountain Street has been restored today as work to secure Bank Buildings continues.
Pedestrian access to Castle Street via Fountain Street has been restored today as work to secure Bank Buildings continues.

The cordon, which has been in place since the fire at Bank Buildings last August, has been further reduced as the recovery work on the building, which is owned by Primark, continues.

Lord Mayor of Belfast Councillor Deirdre Hargey welcomed the news and said it would be a boost for traders.

"We know that some retailers, particularly in the immediate area of the cordon, continue to be impacted by a reduction in footfall and sales, so this will be a welcome development and is good news for Castle Street traders," she added.

The footpath from the corner of Zara (on Donegall Place) to the corner of Fountain Street (City Picnic) is on schedule to be reopened at the end of March. The British Heart Foundation shop, which had its premises on Castle Street prior to the fire, has since relocated and a new shop is operating on Fountain Street.

Councillor Hargey said: "It has been a challenging six months for our city centre businesses but Belfast has proven itself to be a resilient city. It's really encouraging to see this progress and as the cordon continues to be reduced in the coming weeks, I think we will see footfall and trade start to increase again in this area, as accessibility for pedestrians and shoppers improves."

Since the fire and the resulting cordon, Belfast City Council has been looking at ways to reimagine how city centre spaces are used, exploring best practice in urban design, and taking the opportunity to pilot new ideas.

One such project is a pop-up park which is set to open at Castle Place at the end of March, with an emphasis on being child-friendly and a space where children can explore and learn.

"As we look ahead to the longer-term recovery and regeneration of this part of the city centre in particular, we have a unique opportunity to trial new ideas and think about how our public spaces are used," said Councillor Hargey.

"With that in mind, Council is currently developing exciting plans for a temporary pop-up park at Castle Place. In developing these plans, we have looked to other cities for best practice in urban design, and I think this presents Belfast City Council with a real opportunity to pilot these kinds of projects, and test the public's appetite for them."

Over the coming weeks, Belfast City Council will also be carrying out further physical and environmental improvements; upgrading entries and enhancing connectivity around the city centre, adding enhanced lighting, greening the city, and having a 'deep clean' to ensure the city is attractive and welcoming for visitors and residents.

A family-centred programme of activities is also being delivered in partnership with Cathedral Quarter Trust including Lego animation workshops, fun science workshops and Mad Hatter's tea parties – visit www.belfastcity.gov.uk/yourbelfast for more details.