Date: 28 Nov 2019
---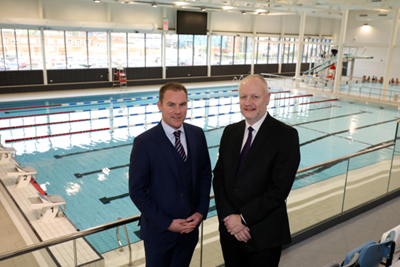 Two new leisure centres will open to the public next week as part of Belfast City Council's £105 million investment in its leisure facilities. 
Two new leisure centres will open to the public next week as part of Belfast City Council's £105 million investment in its leisure facilities.
Brook Leisure Centre in Twinbrook and Lisnasharragh Leisure Centre on the site of the former Robinson Centre in east Belfast will open with a host of brand new sporting products including the biggest swimming pool in Belfast (Lisnasharragh), the largest sensory pool in Northern Ireland (Brook) and a host of indoor and outdoor sporting facilities.
This is the second phase of the council's ten year plan to transform leisure services and get more people in the city more active, more often. Social enterprise GLL will run the new centres in partnership with Belfast City Council.
Lisnasharragh will open on 2 December and will become a leading aquatic centre for Belfast, featuring the city's biggest swimming pool with eight lanes, state of the art timing devices for gala swimming, as well as a diving pool and Tom Daley Diving Academy.
Brook will open on 4 December and focus on outdoor games with a new 3G pitch for Gaelic and soccer, three covered and three uncovered 3G five-a-side pitches, and a hurling wall.
Brook will also introduce swimming facilities to the Colin area for the first time, including a sensory-enabled pool that will be the largest of its kind in a public leisure facility in the UK.
Both leisure centres will be equipped with multi-purpose health and fitness studios, fully equipped gyms, sports halls, and community facilities. Membership gives people citywide access, enabling them to use all 15 of the public leisure centres in Belfast. Under-5s can also swim for free at any of the city's nine swimming pools.
Nigel Grimshaw, Strategic Director of City & Neighbourhood Services at Belfast City Council: "The council is thrilled to be able to open two new leisure centres as part of our ten-year plan to transform the city's leisure facilities.
"This is an investment in our city and its people. Providing five-star leisure facilities at three-star prices is about giving everyone the opportunity to access affordable leisure facilities and improve both their physical and mental health.
"With this investment we are bringing world-class facilities to Belfast. There is no comparable size of investment in publicly owned leisure facilities anywhere else in the UK, so it is a real statement of intent by the council and demonstrates our commitment to improving the health and wellbeing of our citizens.
"We are also committed to tackling health inequalities as part of the Belfast Agenda and we are keen to see these state-of-the-art leisure facilities play a role in this by encouraging community groups and organisations to use them as often as possible.
"From the opening of Olympia in 2017, we have seen a vast improvement in the numbers of people using that centre and we hope this has the same effect at Brook and Lisnasharragh."
Gareth Kirk, Regional Director of GLL in Northern Ireland said: "GLL is incredibly excited to be opening two new leisure centres to the public next week and look forward to showing off these new facilities that everyone in the city can use.
"The centres bring to the city some features that have never before been seen here. Lisnasharragh will play host to all aquatics disciplines from across the city and be the city's venue for major swimming, diving and water polo competitions. This will meet one of our key aspirations within the Belfast Aquatics Strategy.
"At Brook, we will focus heavily on outdoor sports with hugely improved provision for outdoor games like Gaelic and soccer. The gym has been designed specifically to accommodate training for teams in strength and conditioning which will help players excel in their chosen sport.
"Since we took over the running of Belfast's leisure centres in 2015, we have seen a huge increase in membership from 8,450 to 24,323. We also have grown the number of children learning to swim in our Better Swim School every week from 1,250 to 3,800, teaching them a vital life skill and inspiring a new generation of athletes.
"Our centres are also aimed at people of all backgrounds and abilities. Our Healthwise programme helps people with a range of conditions to get back to physical exercise, whilst our partnership with organisations like MacMillan Cancer supports people living and surviving cancer to grow stronger through physical activity.
"Our people are an essential part of our social enterprise model and the opening of the new centre will also see us welcome over 75 new staff from local communities into the centres. We hope that as many people as possible come and check out these two outstanding new centres in the coming weeks."
Find out more about the Leisure Transformation Programme at www.belfastcity.gov.uk/transformingleisure