Date: 02 Aug 2019
---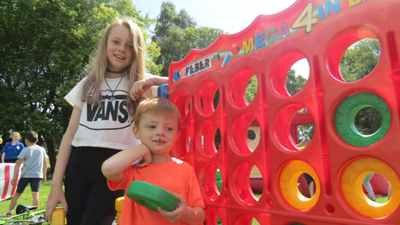 Children from across Belfast and beyond are attending a free event in Ormeau Park next week to celebrate play.
Children from across Belfast and beyond are attending a free event in Ormeau Park next week to celebrate play.
The National Playday event on Wednesday 7 August has been organised by PlayBoard NI in celebration of children's right to play, and to highlight why play is so important for children and young people.
Young people and families attending on the day will also be asked to share their ideas on how they would like to see city centre spaces developed to become more child-friendly and encourage learning.
Councillor Deirdre Hargey, chair of Belfast City Council's City Growth and Regeneration Committee, said: "Council has given a commitment to work with the Department for Infrastructure and the Department for Communities to examine how the city centre should develop in a way that is accessible and welcoming for all, and this will include how we cater for pedestrians and children in particular.
"Following the fire at Bank Buildings, we were faced with the challenge of rethinking how we use our city centre, and the success of our pop-up park at Castle Street allowed us to see what impact creating such a space in the city centre could have.
"We had very positive feedback about the pilot project so now we are looking at other locations within Belfast to create a similar park or public space, and we want to hear from as many people as possible to collect those ideas and help shape our plans."
Through engagement with Belfast City Council's play team, children attending the Playday at Ormeau Park are being invited to write down or draw their ideas on how Belfast could be more playful and share their designs for a park.
There will be other free, fun activities to enjoy on the day including facepainting, story-telling, building dens, water play, group games, arts and crafts, and much more.
Jacqueline O'Loughlin, Chief Executive of PlayBoard NI said, "Playday is celebrated every year across the UK with the theme this year of Play Builds Children which highlights the many ways in which play is beneficial to children and young people.
"Play can help children build friendships by allowing them to interact with others, deal with conflict and learn respect and tolerance. Play boosts children's confidence and problem-solving skills, helping them build resilience to be able to cope with challenges throughout life. Being active through play also helps children both physically and emotionally, contributing to their health and happiness.
"We are looking forward to our play event in Ormeau Park on Wednesday which is a great opportunity for children to play together and to have fun."
Places for the event are fully booked. For more info visit www.belfastcity.gov.uk/events for more info.