Date: 02 Feb 2020
---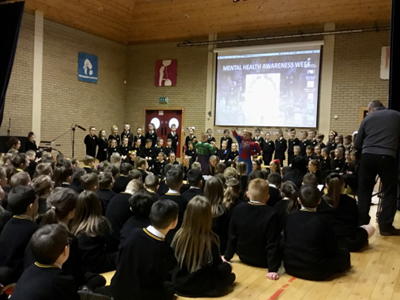 On Thursday 6th February 2020, Christ the Redeemer Primary School in Lagmore held a very special school assembly in support of Children's Mental Health Week.
The school hosted a week of events involving all of 715 of their pupils, designed to shine a spotlight on the importance of children and young people's mental health.
The week of special events and activities aimed to teach pupils that life is all about taking small brave steps every day. Across the week pupils took part in numerous activities to create a healthy body, a healthy mind, take positive actions and fill up on the goodness of others.
Place2Be, a children's mental health charity has stated "One in eight children and young people have a mental health problem and may continue to have this into adulthood."
The local area in Lagmore has suffered great loss recently with a high rate of young suicides. As a community, the school felt this was an area that needed to be addressed, and pupils equipped with the knowledge and skills which would enable them to maintain good mental health and build resilience in order to deal with problems and challenges.
The Lord Mayor of Belfast Daniel Baker was also in attendance. The Lord Mayor addressed the pupils on the importance of mental health and also spoke of his own school life.
Lord Mayor of Belfast, Councillor Daniel Baker, spoke ahead of the assembly,
"It's so important that we make our children and young people aware that they need to look after their mental health. Mental health is just as important as physical health and that's what we're highlighting during Children's Mental Health Week. I'm delighted to be participating in Christ the Redeemer Primary School's special assembly on Thursday to speak to the pupils about why positive mental health is so important, especially in light of what this community has suffered in recent years. I look forward to drawing attention to this vital cause and meeting the teachers and schoolchildren."