Date: 26 Apr 2019
---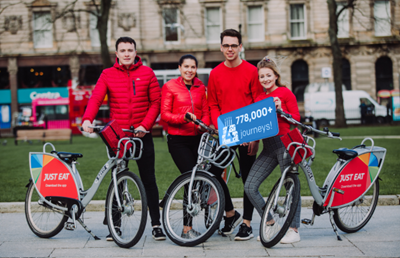 Just Eat Belfast Bikes members celebrate as the scheme marks its fourth birthday.
Just Eat Belfast Bikes members will be celebrating tomorrow (Saturday) as the scheme marks its fourth birthday. Every year Belfast Bikes becomes more and more popular and the past year was no different; from 2015 users have cycled more than 200,000 hours and burned 1 million plus calories (that's the same as around 500 large pepperoni pizzas!).
Since the initiative was launched on 27 April 2015, usage has grown steadily with over 778,000 journeys travelled, so far. Just Eat, a leading global marketplace for online food delivery joined us in 2018 as our sponsor and to celebrate our fourth birthday users will be gifted Just Eat Belfast Bikes saddle seat covers over the coming week to mark the occasion.
John Greer, Director of Economic Development, Belfast City Council said: "Belfast Bikes continue to go from strength to strength, the public bike scheme is a healthy, convenient and enjoyable way to connect the city, the demand for bikes and additional docking stations is testament to its success. City development and living here are major priorities of the Belfast Agenda, our community plan, which focuses on improving connectivity and the city living experience - Belfast Bikes echoes this vision to continue to become a more cycle friendly city. In turn, our commitment to the scheme shows the desire to continue to make Belfast a city that is a better place for people to work, live and move in.
"We were delighted to welcome Just Eat on board last year and look forward to enjoying continued success as the scheme grows in popularity. With the summer season approaching I urge people to consider signing up to avail of a healthier and happier commute."
Ben Carter, UK Marketing Director for Just Eat said: "We believe it is important to support local communities throughout the UK and with over 100 restaurants in Belfast available on the Just Eat app we were excited to get involved with Belfast Bikes. As proud sponsors of the scheme seeing the journeys reaching over 778,000 is a fantastic achievement.
"On the fourth birthday we encourage users to celebrate and cycle, and don't forget to pick up your Just Eat saddle seat cover as a small gift of thanks for using the bikes over the years."
Our 5,500 annual subscribers pay £25 a year, and 3,800 casual users pay £6 for three days' use, there is also a pay as you go option from £1. Users can register for the scheme by telephone, online or via a Smartphone app. After registration, the first 30 minutes of bike use is free of charge, which makes Just Eat Bikes ideal for short journeys around the city.
There are currently 46 docking stations and 400 bikes, the most popular station is Ormeau Park while the most popular journey is Ormeau Park to Lanyon Place Train Station. While the bikes are available for hire 365 days a year, from 6am until midnight, the majority of journeys on Belfast Bikes occur on weekdays (Monday to Friday), with the average rental time of 18 minutes.
Find out more about Just East Belfast Bikes on the council website at www.belfastcity.gov.uk/belfastbikes