Date: 25 Mar 2020
---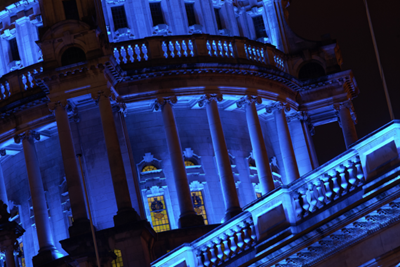 Belfast City Hall will be illuminated in blue tomorrow night in support of NHS staff.
The Albert Clock will also be lit up blue.
Lord Mayor of Belfast Councillor Daniel Baker said: "I am delighted that we are going to be lighting up City Hall and the Albert Clock blue on Thursday night to show support for our NHS staff. It's a small but important gesture; an opportunity to show these amazing workers how grateful we are for them, as they battle to keep us and our loved ones safe.
"I know I speak for everyone when I say how proud we are of all those health and care workers who are working round the clock in very challenging conditions. On behalf of the city I want to say thank you.
"And if anyone is wondering what they can do to support our NHS staff at this critical time, the message is very simple – stay at home. It is vitally important that we all follow the public health advice to observe social distancing and not go out unless you really have to. I would appeal to everyone – please listen and please do your bit to help us prevent the spread of this virus."