Date: 22 Jan 2020
---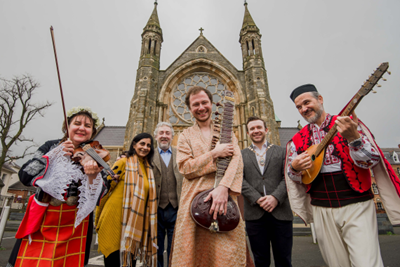 The cultural wealth of many nations will be celebrated at a unique musical event at Clonard Monastery on Wednesday 4th March 2020.
The cultural wealth of many nations will be celebrated at a unique musical event at Clonard Monastery on Wednesday 4th March 2020.
Songs and music from all four corners of the globe will be brought to majestic surroundings at Clonard in a unique collaboration showcasing the diverse talents across Belfast's growing world music scene.
Together, under the musical direction of internationally acclaimed composer and musician Neil Martin, local and international musicians will join the singers to take their audience on a memorable musical journey through the music of India, Greece, Africa, Bulgaria, Ireland and Spain.
The annual concert is pioneered by ArtsEkta, one of the city's cultural organisations that unites communities through creative excellence. Under the banner 'Connections' local choirs and musicians have been encouraged to explore their own and others' musical traditions to showcase Belfast as a truly diverse 'city of music'
Nisha Tandon OBE, Founder Executive Director of ArtsEkta, said: "When they take to the stage on the evening of 4th March our performers will demonstrate in the most powerful form of how musicality can unite cultures. Over recent months they have been working together on the widest possible range of genres, jamming their way through sessions involving ethnic percussion, tambura, guitar, vocals, violin, piano and the Indian sitar … all designed to help them develop and share their musical creativity and heritage. The result will be one of the most vibrant, exciting joyous concerts that the city has ever experienced!"
Deputy Lord Mayor, Councillor Peter McReynolds said: "Music influences so much of our culture here in Belfast and as part of our ten-year Cultural Strategy, which launches in April, we've outlined our ambitions to secure UNESCO City of Music status by 2021.
"The Connections concert, which will take place in the spectacular Clonard Monastery on 4 March, is a great way to highlight our city's diverse musical talent as performers from local and minority backgrounds showcase a variety of sounds from across the globe.
"The family-friendly event has been funded through our Amplifier project, which aims to showcase Belfast's world-class musical talent."
Looking forward to the event, his fourth 'Connections' concert, Musical Director Neil Martin, said: "Each year we come still further on our musical journey of discovery and I feel privileged to have been able to continue to build on the success with some immensely talented and open-minded local singers and musicians. Together, they have created and now want to share with others, something unique and special.
"I think the performance of 'Connections' will demonstrate that sentiment in powerful style and will also celebrate the vast range of cultures as well as the range of talent which we are fortunate enough to have right here in Belfast'
The programme of music and song will feature performances from a group of international musicians united by a passion for their chosen instruments as well as a special appearance from guest performers Dublin African Gospel Choir.
Tickets to Connections which will be staged at Clonard Monastery at 7:00pm on 4th March are free, but advance booking is essential. Visit: www.artsekta.org.uk/connections