Date: 05 May 2023
---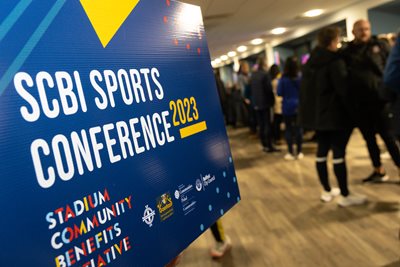 Collaborative working amongst partners of the Stadium Community Benefits Initiative (SCBI) is encouraging shared learning and positive engagement amongst sporting codes across Belfast.
Supported by Belfast City Council, the Department for Communities, the Irish Football Association and Antrim GAA, Gaelfast, the SCBI is a 10-year programme focusing on maximising the potential of the National Football Stadium at Windsor Park and future Casement Park development to improve the lives of residents and future generations.
As well as delivering individual programmes, partners have engaged in shared activities in schools and communities across the city.
This way of working has generated real success with engagement and interest in the SCBI programme growing, demonstrating an appetite for shared learning across all sports.
This collaborative approach to working amongst partners was most recently showcased at the SCBI Sports Conference 2023 held in the National Football Stadium Windsor Park.
Clubs and volunteers from a wide range of sports across Belfast heard from Chief Executive Officer of the Liverpool FC Foundation, Matt Parish and Games Development Manager at Dublin GAA, Ger O'Connor on the impact and importance of sports clubs in local communities, as well as hearing their views on tackling sports development in an urban setting.
There was an overwhelming positive response to the conference with attendees' reflecting on the collaborative approach to learning across sporting codes.
Colin Jess, a volunteer at Glentoran Football Club was looking forward to implementing some of the joint learnings in the future. He said: "I came away buzzing from the event with ideas of how to develop programmes for the benefit of the local community around the East Belfast area. It was also great to learn of the activities across both GAA and at Liverpool FC where they are generating a real social return on investment to the benefit of the community. Overall, a great event which showed clearly how sport can have a real impact on all communities by bringing participants and families together and creating wellbeing."
Lauren McElkerney of Donegal Celtic Ladies said the conference really highlighted the importance of the volunteer in sports clubs. She said: "I found the conference informative on how important volunteers are to a club. It really highlighted for me to look after all our volunteers as they are just as important as the players."
Antrim Camogie Development Officer, Willie Devlin enjoyed meeting and discussing ideas with representatives from other sporting codes. Willie said: "The recent SCBI conference offered a great opportunity to meet and chat with colleagues from different sports and geographical areas. Of particular interest was the ongoing issue of participation of children and looking to improve the chances of long-term participation. This was a common theme across football and all GAA codes."
And Fionnghuala Rocks, LGFA U14 Academy Manager at Antrim GAA highlighted the impact of the SCBI programme, and the effect shared activity can have on increasing participation in sport. She said: "SCBI programmes have been extremely beneficial to Ladies Gaelic Football, the conference was an excellent example of how different sports can come together to share success stories, highlight how they were achieved and assist others to set up their own programmes ensuring to implementing the critical success factors used by others".
Partners in the SCBI are also reporting increased participation in all programmes.
In the last year alone the IFA and Gaelfast delivered 2629 sessions, targeting many different groups including older people and those with a disability or learning difficulty. The delivery of those sessions resulted in nearly 16,120 people participating in sport.
For more info on the SCBI programme visit www.belfastcity.gov.uk/SCBI