Date: 16 Dec 2022
---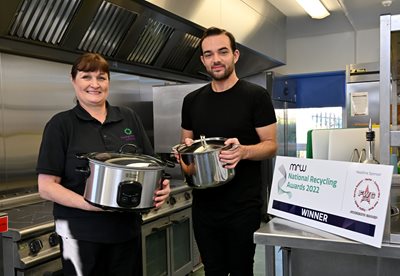 A food waste initiative helping communities to tackle food poverty has scooped a top national recycling award.
Belfast City Council's Kitchen Equipment Grant Scheme was recognised at the MRW National Recycling Awards for Best Food Waste Initiative.
The awards recognise the best projects and teams in the recycling and resource management sector.
Delivered by council's environmental education and outreach team, the Kitchen Equipment Grant scheme helps groups and organisations by providing the equipment they require to store food and prepare meals for those who are most vulnerable and in need in their communities.
Three tranches of the scheme have already been distributed to groups across Belfast. It has seen:
 158 successful applications
 £239,284 invested in community infrastructure
 over 40,000 people supported in local communities across the city
 13,601 additional meals distributed each week.
 over 180 tonnes of food waste diverted from the waste stream each year.
The judging panel of the National Recycling Awards said the scheme was having a positive impact on so many levels.
They said: "This is a great idea and an example of how something very simple can be so effective, while recognising the change in funding model that was required to make this happen. It offers a triple win in terms of environmental, social, and economic benefits."
Chair of Belfast City Council's People and Communities Committee Councillor Micky Murray commended staff for delivering the scheme.
Councillor Murray said: "The delivery of the scheme has been a major success and the impact it is having in local communities across the city is immeasurable. I want to congratulate everyone involved and this award is rightful recognition for the staff who have managed this scheme from the beginning."
Footprints Women's Centre recently benefitted from funding and supported local women to improve their cooking and nutritional knowledge.
Food services and sustainable living manager at the centre, Eileen Wilson said: "The scheme enabled Footprints to purchase a commercial double fridge and a variety of small pieces of catering equipment, for example, knives, pots, slow cooker and baking trays to launch a new project, Social Cook.
"We are able to receive and safely store surplus food from our community partner Fareshare in the double fridge. This food is used in Footprints community training kitchen where members learn the skills to prepare and cook a range of nutritious, low budget family meals, plan a weekly menu and learn about the food groups and the impact on health of a well-balanced diet. Produce grown in Footprints kitchen garden allotments is also incorporated into the cookery sessions."