Date: 26 Sep 2023
Category: Climate and biodiversity
---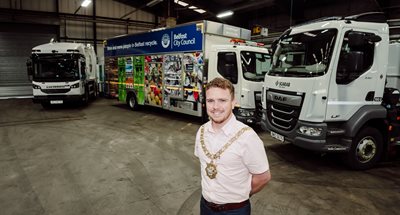 Over 200 of Council's fleet vehicles previously powered by diesel, are now running on Hydrotreated Vegetable Oil (HVO).
Elected members approved the fuel switch in December last year, following a HVO trial on a selection of vehicles during the summer of 2022. The transitioning of vehicles began in January 2023.
HVO is a low carbon, zero sulphur fuel and is manufactured from waste renewable materials such as rapeseed and sunflower oil.
HVO fuel eliminates up to 90% of CO2 emissions when compared to fossil diesel and significantly reduces nitrogen oxide (NOx), particulate matter (PM) and carbon monoxide (CO) emissions.
Lord Mayor of Belfast Councillor Ryan Murphy spoke about the latest developments and said: "The aim to transition Belfast to a climate resilient, low carbon city within a generation is ongoing.
"As a Council we recognised the need for a cleaner, and more sustainable alternative to diesel and I am delighted that diesel fuel used in 200 council vehicles including HGV's and street sweepers have now switched to HVO- with no modifications to vehicles needed.
"This switch not only reduces carbon emissions but aims to improve air quality across the city. Additionally, HVO is odourless, improves fuel efficiency, has zero palm oil content and is completely biodegradable."
Councillor Murphy continued, "Climate change is the most pressing challenge of our generation and improving transport infrastructure within Council will help us reach our targets on moving towards a net zero economy.
"There is work still to be done, but we are moving in the right direction and this progressive switch to HVO aligns with the commitments we made as part of our climate action plans for the city."